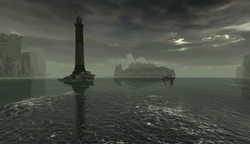 The Caicos Islands are a small group of islands located southeast of Mayaguana in the Bahamas. During the early 18th century, the island was a secluded pirate hideout, far from the frantic activity of the Caribbean.
History
In August 1718, the French pirates Alonzo Batilla and Olivier Levasseur sailed to the Caicos Islands to collect the Fragment of Eden, since Levasseur had hidden it in a cave to hide in from the Templars. After retrieving the artifact however, the pirates were ambushed by Christopher Condent and subsequently a British war fleet led by Woodes Rogers. The two pirates decided to split up; while Levasseur fled with the artifact, Alonzo faced their enemies.[1]
Gallery
Appearances
References
Community content is available under
CC-BY-SA
unless otherwise noted.