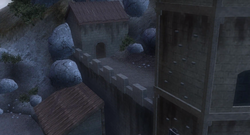 Buffavento Castle was a major Templar base in Kyrenia, on Cyprus. It once belonged to a wealthy noble woman but ended up being taken over by Armand Bouchart. It was notable for having a large prison area, and its infamous prisoner, the Dark Oracle, a mysterious woman feared throughout the Cypriot resistance. The word was she predicted the resistance's movements, members and locations, handing this information to Templars.
Appearances
References
Community content is available under
CC-BY-SA
unless otherwise noted.