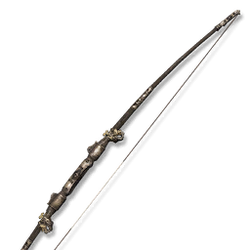 The Bow of Arash was a rare hunter bow which was said to have belonged to Arash, a heroic archer in Iranian mythology.
According to legend, an arrow shot from the bow was able to travel from dawn to noon. In the 1st century BCE, the bow was claimed by the Medjay, Bayek, in Kyrenaika.
Weapon Statistics
Rarity
Quality (Max Level 55)
Damage (Max Level 55)
Attributes
Availability
Rare
Charging Speed II

Critical Hit Damage I

Complete Pax Romana
Description
An arrow loosed from this bow can travel from dawn to noon.
Appearances
References
Community content is available under
CC-BY-SA
unless otherwise noted.