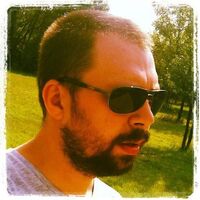 Borislav Mitkov (born 1975) is a freelance illustrator and concept artist working at Ubisoft Sofia, Bulgaria. His contributions to the Assassin's Creed series have mainly included character and setting concepts.
Biography
Born in Arkhangelsk, Russia in 1975, Mitkov spent most of his time growing up in Bulgaria. As a child, he was fascinated by the illustrations in fairy tale books, but he himself only began drawing in middle school, when a friend introduced him to Western comic books, illustrated by Frank Frazetta.[1] Mitkov subsequently went to art school and university, studying Fine Arts.[2]
In 2005, Mitkov was hired by Ubisoft Sofia as a Senior Concept Artist, creating concept art for many of the studio's projects, such as Rayman Raving Rabbids, Tom Clancy's H.A.W.X, Prince of Persia Classic Trilogy HD and several entries in the Assassin's Creed franchise.[2] He has also done freelance illustrations for Sony Online Entertainment, Muzzy Lane and other independent publishers,[1] as well as the Roweyna Universe.[2]
Games credited
Gallery
Assassin's Creed III: Liberation
Assassin's Creed IV: Black Flag
Assassin's Creed: Rogue
Assassin's Creed: Origins
References
External links
Community content is available under
CC-BY-SA
unless otherwise noted.