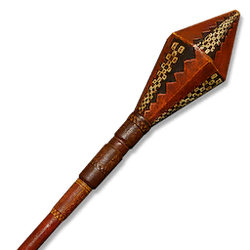 Boredom Bane was a heavy mace richly crafted by priests of Ptah in Memphis, Egypt.
Description
The Boredom Bane was among the most intricately designed of maces in 1st century BCE Egypt. Fashioned out of a bright, mahogany wood, the mace's rich color was matched by its octahedronal head and ornate carvings all along its pole. Half of each face of the octahedronal head was painted with checkered patterns, such that the pattern alternated with the remaining, undecorated parts of the head.[1]
History
Somewhat akin to a ceremonial mace, the Boredom Mace was specially crafted by worshippers of Ptah in Memphis, Egypt. The art recalled the role of Ptah in Memphis' religious narrative as A demiurge, the deity responsible for forging the universe through his artisanship.
During his hunt for the Order of the Ancients, the Medjay Bayek of Siwa commonly found this mace in the inventories of blacksmiths and on bodies and in chests during his travels throughout Egypt.[1]
Weapon statistics
Rarity
Quality (Max Level 55)
Damage (Max Level 55)
Attributes
Availability
Common
113
528
Adrenaline on Kill I
Blacksmith, Loot
Description
Nicely crafted by worshippers of Ptah in Memphis.
Behind the scenes
The model of the Boredom Bane, a weapon in Assassin's Creed: Origins, shares the same model as the Diamond Exchange, another weapon in the same game. The model was recycled as the model of the Wooden Mace, a weapon in Assassin's Creed: Odyssey, and its kind.
Appearances
References
Community content is available under
CC-BY-SA
unless otherwise noted.