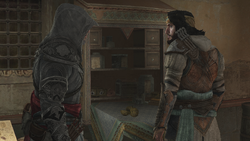 Bomb-crafting station was a location used to craft bombs, both inside Constantinople and other locations. These stations were available to the Assassin Ezio Auditore da Firenze during his travels, and were usually marked with the insignia of the Ottoman Brotherhood of Assassins.
Description
The crafting stations were small, boxlike, and somewhat inconspicuous, set up by the Assassins to enable the crafting and modifying of bombs. There were three inventory pouches inside a station, each holding bombs of according to their use, whether lethal, tactical, or diversionary. Up to five bombs could be manufactured with different types, amounts, and combinations of ingredients, for a maximum total of 15 bombs on hand at any given time.[1]
Known ingredients
Casing
Indian gunpowder: This gunpowder creates a small explosion radius, minimizing the number of casualties around the target area.
Arabic gunpowder: This gunpowder offers a medium-sized explosion, affecting multiple targets at once.
British gunpowder: This gunpowder explodes in a wide radius, affecting a very large area.
Lethal
Shrapnel: Shrapnel creates a lethal device designed to kill by dispersing metal shards upon exploding.
Datura powder: Datura Powder creates a lethal explosive designed to slowly poison anyone who breathes its fumes.
Tactical
Diversionary
Behind the scenes
Bombs could also be quickly replenished through the weapons selection menu, if all of the required ingredients were available.
Gallery
Appearances
References
Community content is available under
CC-BY-SA
unless otherwise noted.