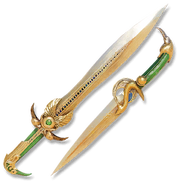 The Blades of Thoth were short blades inspired by and dedicated to Thoth, the Egyptian god of writing, magic, wisdom, and the moon. With pommels shaped like the head of ibis, and bright green handles, the dual blades were as beautiful as they were deadly.
In ancient Egypt, the pair of blades served as the mystery behind the Scroll of Thoth and they were stored in a vault hidden beneath a giant tree in the Temple of Thoth in Arsinoe on the Sinai Peninsula. In 38 BCE, the mystery was solved by the Hidden One Bayek of Siwa, who claimed the blades for his own use.[1]
Weapon statistics
Rarity
Quality (Max Level 55)
Damage (Max Level 55)
Attributes
Availability
Legendary
123
527
Adrenaline Regeneration IV
Combo Multiplier I
Health on Kill
Complete Shards from a Star
Description
Blades of legend. He who wields them draws the ka force from his victim.
Gallery
Appearances
References
Community content is available under
CC-BY-SA
unless otherwise noted.