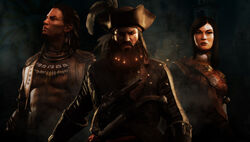 Blackbeard's Wrath is a downloadable content addition for Assassin's Creed IV: Black Flag. It was released on 10 December 2013 for Xbox 360, Xbox One and PC, and 11 December 2013 for PS3 and PS4.
The addition consists of a character pack that allows players to use three new Animi Avatars: the eponymous Blackbeard, the Aztec Templar known as the Jaguar and the graceful negotiator called the Orchid. The pack also includes four new achievements:
"Sacred Land" – Playing as the Jaguar, be the highest scoring player of a Domination game session.
"Queen Anne's Revenge" – Playing as Blackbeard, perform an acrobatic kill and a gun kill in less than 10 seconds.
"Preemptive Strike" – Playing as the Orchid, block 10 abilities from opponents with Sabotage.
"Elevator to the Gallows" – Kill a player using a lift that has been trapped with Booby Trap.
Gallery
Reference
Community content is available under
CC-BY-SA
unless otherwise noted.