Birthrights was a virtual representation of one of Eivor Varinsdottir's genetic memories, relived by Layla Hassan through the Portable Animus HR-8.5.
Description
Eivor and various Norwegian Viking clans attended an althing organized by King Harald Fairhair.
Dialogue
Eivor and her longboat crew pulled up to the Alrekstad docks.
Eivor: Have you ever seen so many ships docked at once?
Bragi: Never. Nor has there been a gathering of kings so large as this.
Eivor sought out her brother, Sigurd Styrbjornsson, and soon came to a tavern where a couple men were fighting drunkenly outside.
Norse Man 1: Your clan is a foul stench!
Norse Man 2: But we are strong, ergi (weakling)!
Norse Man 1: Yes! Strong with stink!
Norse Man 2: Step closer, seal-face. And say that again!
Norse Man 1: I said your stench is strong. That's your only strength. Your stench.
Norse Man 2: I will feed your teeth, wrapped in your tongue, bacraut (asshole)!
Inside the tavern, Eivor found Sigurd drinking at a table across from Basim Ibn Ishaq, while Gorm Kjotvesson and two Wolf Clan members relaxed on the opposite side of the room. Eivor walked in, glared at Gorm's group, and moved to Sigurd's table, sitting beside him.
Sigurd: You have just won your heart's desire, Eivor. Yet by the look on your face, you have lost your will to live.
Eivor: Gorm is here with the last of his men. Why does that troll dare show his face?
Sigurd: Leave it for another day. We are here under Harald's truce. And Gorm is too weak to try anything bold.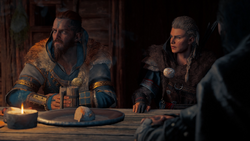 Sigurd drank from his tankard.
Eivor: He is a seed-stain on his father's trousers. I should wipe him from this world.
Sigurd: Not tonight, Eivor. Leave it.
Eivor settled down but remained discontent. Gorm and the Wolf Clan members decided to leave then, and as they did, Eivor and Gorm caught each other's eye in an intense stare. Sigurd set down his tankard.
Sigurd: Basim, watch over this one and see that she warms herself with drink. I will find my father and escort him to the longhouse.
Basim: As you wish.
Sigurd rose from the table and left the building as Eivor drank from a tankard and wiped her mouth with the back of her hand.
Eivor: Is Hytham well?
Basim: He will heal, but never fully recover. It is fortunate that you were able to succeed where he failed.
Eivor: My resolve was strong.
Eivor took another drink.
Basim: When you slew Kjotve, did you see a sigil on him? Silver, the size of my palm, bearing the symbol of an ash-tree.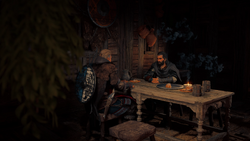 Eivor withdrew Kjotve's medallion from her pocket and slid it towards Basim.
Eivor: Take it. Trade it for what you can.
Basim pocketed the medallion.
Basim: I know where Gorm is camped. If you wish to see him without anyone the wiser, there is a trick I can teach you.
Eivor: Already looking for another apprentice? All right, I'll bite. What do I do?
Basim: Use your cloak to obscure your face. Blend in to the crowd, divert attention, hide in plain sight.
Eivor: A gift of knowledge from a man I hardly know. Is this your way of asking me to join your brotherhood?
Basim: Not at all. So long as men and women fight to secure honor and freedom, their allegiance hardly matters to me.
Eivor:
Is this how your brotherhood operates? You sneak around in the daylight, stabbing your victims where they stand?
Basim:
Said like that, you make me blush. We are seekers of justice, shepherds of man's will. We work in the dark to serve the light.
Eivor:
I suppose there's no shame in using deception when honor is at stake. And Gorm is a stain on that honor.
Eivor rose from her seat.
Basim: Then let's see what can be done to cleanse that stain. Give it a try.
Basim stood and walked out of the tavern with Eivor. She followed him through the settlement to Gorm's camp as he instructed her on how to blend into crowds.
Basim: A few things you should know before you step into his camp. Walking unseen through hostile territory is an exercise in subtlety. A hood makes you forgettable, dismissed at a distance. Remain far from watchful eyes and you will be invisible to them. Do not draw blade or hammer, for these and other sudden movements can break your disguise. And in case I wasn't clear, you will need to put up your hood for the trick to work.
Eivor and Basim crossed a bridge near the edge of Alrekstad and saw the Wolf Clan camp further up the road.
Basim: Gorm is there. In the camp ahead.
Basim stayed at the bridge as Eivor explored Gorm's camp. Skirting the edges, she eavesdropped on a group of four soldiers drinking and relaxing at their post.
Norse Warrior 1: What were you thinking? Drinking mead on an empty stomach.
Norse Warrior 2: You have to eat something before drinking that much.
Norse Warrior 1: How does that go... "Feed before mead"?
Norse Warrior 2: I have some roasted lamb on the spit. Are you coming?
Sneaking through the camp, Eivor found Gorm in a small longhouse. She barged in, catching him by surprise.
Gorm: Eivor!
Eivor: You argr (cowardly) shit! Take up your weapon and follow me beyond these walls. Let Odin's favor land where it may.
Gorm: You dare not break the king's peace here, so fuck you and your god talk. What say you to that?
Provoked, Eivor slammed her fist into Gorm's face, knocking him flat. He continued speaking as he stood up.
Gorm: You can beat me, but you will kill me. Not under Harald's truce.
Eivor stalked forward to start a fight only to be interrupted as two of Harald's men entered the longhouse. Eivor tilted her head to listen.
Norse Warrior 3: You are all subject to King Harald's truce. Break his peace and you will be cast out of Alrekstad.
Eivor looked at Gorm before turning her head to address Harald's men.
Eivor: I will give you no trouble.
She returned her focus to Gorm.
Eivor: You were shat into this world without honor, Gorm. And you will leave as turd dumped into Hel's deepest ditch.
Eivor walked away, but only made it steps before Gorm issued a retort.
Gorm: Keep crowing, Eivor. You only make yourself an easier target.
Eivor and Harald's men left the longhouse. Once out of Gorm's camp, she made her way to Alrekstad's central meadhall.
Eivor: The Althing will have started. I should find Sigurd.
Eivor entered the hall and walked over to where Sigurd stood by a table.
Sigurd: Tell me Gorm still lives, Eivor.
Eivor: It pains me to say... he does.
Sigurd: Thank you. His day will come.
Sigurd looked to the back of the hall then leaned on the table.
Sigurd: Ugh... gods, I hate long speeches.
Eivor: Only when you're not giving them.
King Harald began speaking from a stage at the back.
King Harald: Many of you knew my father, Halfdan the Black. A great man who achieved great things.
Norse Woman: They buried Halfdan's leg near our temple! The crops have never grown taller!
Norse Man: They buried his arse near ours and we get nothing but a muddy river!
The crowd laughed.
King Harald: I dream of something greater. A vast kingdom of warriors, in numbers the world has never seen. United under one king. One rule! Too much blood has been spilt fighting one another. Today we unify and turn our blades outward to conquer new lands! And who better to lead us to glory than me? I was blooded before the age of ten and I led the greatest army Norway has ever seen. But they saw a wise king seeks honest counsel. So I ask, who among you rejects this new arrangement?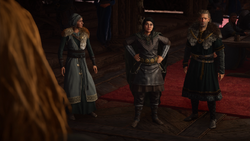 Hjorr Halfsson and Ljufvina Bjarmarsdottir stepped forward.
Hjorr: I am not your enemy, King Harald, but I will not be your subject. Tomorrow we sail for greener shores, and so, my kingdom is yours.
King Harald: This saddens me, noble Hjorr. And does your wife agree? Is she not tired of limping ever westward?
Ljufvina: My husband and I are as one in this, lord. We do not limp together, we fly.
King Harald: I am sad to lose a woman of your spirit, Ljufvina. But I hold no grudge. May the fates grant you good luck.
Hjorr and Ljufina returned to their seats as Gorm called out to Harald and stepped forward from the shadows.
Gorm: My king! I offer you my axe and my oath, ironclad!
King Harald: Gorm Kjotvesson. You dare show your face in this hall? Did not king Styrbjorn and his son Sigurd rid our lands of your foulness?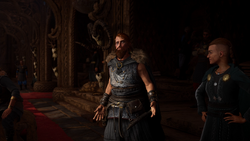 Gorm: The Raven Clan dishonored me, great king! They poisoned my father, Kjotve! They made a mockery of his honorable death.
Eivor: Bacraut! (Asshole!) You lie!
Sigurd: Hold, Eivor. Let it play out.
Guthorm the Wise stepped onto the stage beside Harald.
King Harald: This is a serious charge, Gorm. And a false one at that. My uncle saw your father die. Eivor Wolf-Kissed. You are Kjotve's slayer. This man has slandered your clan. What shall I do with him?
Eivor: I would send him to Hel, as I did his father.
King Harald: Understandable, but a quick death is too good for a draugr (ghoul) like him.
Eivor:
Exile, lord. Banish him to the wilds where even a slave could kill him with impunity.
King Harald:
A wise choice. Death would be too easy a way out.
Eivor:
You are king of these lands, Harald. The decision must be yours.
King Harald:
A modest and honorable answer.
Harald addressed Gorm.
King Harald: Gorm, I name you Worm and call you exiled. Leave these lands by the next full moon or I will feed you to the crows myself.
Eivor glared at Gorm as he walked away. Styrbjorn stepped forward.
Styrbjorn: King Harald, may I speak?
King Harald: The floor is yours, King Styrbjorn.
Styrbjorn: My people have held our land since the days when Odin himself walked among us. My kingdom is humble, but we have paid for it in blood. Our victory over Kjotve is proof that we will not lay down without a fight. All here have buried friends, brothers, and sisters... sons and daughters. And I for one have had my fill of death. Let those who seek war look beyond our shores. If King Harald brings peace, then I am happy to bend my knee to him.
Styrbjorn knelt before Harald, shocking Sigurd and Eivor.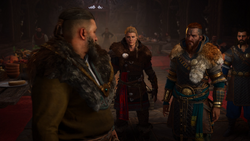 Sigurd surged forward in a fury, followed by Eivor.
Sigurd: What in Hel's name are you doing, Father?
Styrbjorn turned to speak to his son.
Styrbjorn: Securing a lasting peace, Sigurd. Our days of fighting are finished.
Sigurd: You said nothing of this to me, not a word! And I will not yield a title that should be mine by right!
Styrbjorn: Then war will continue. Men will die, villages will burn, you foolish boy! This is our only way towards true peace!
Sigurd stormed off, leaving Eivor alone with Styrbjorn and Harald.
Styrbjorn: Forgive my son. He is ruled by his emotions.
Styrbjorn returned to his seat. Eivor stepped forward to speak to Harald.
Eivor: That was an ambush, lord. Did you know of Styrbjorn's plans?
King Harald: For some days, yes, I did. But it was not at my urging. This was his decision alone. Do you dream of a glorious future, Eivor? A warrior like you would be a boon to my clan.
Eivor: I dream of a glorious death, but not at the cost of betraying my family.
Eivor:
My fate is tied to my brother's. Where Sigurd goes, I follow.
Eivor:
All I know of Fate is that its pattern is unknowable. I do not worry beyond that fact.
King Harald: You intrigue me, Wolf-Kissed. Orphan and sibling, warrior and poet. You are many in one, it seems.
Eivor: You know much about me.
King Harald: I have eyes and ears everywhere, as any effective king must. Would you not be one of my ravens?
Eivor: I am bound to Sigurd. And he to me. But if fate should cross our threads again...
King Harald: I understand. Yet should your fortunes change, you are welcome in my hall. But let us leave these matters for another time. Tonight, we will eat and drink like gods and wake in a kingdom made new.
King Harald:
I wish I understood you better. For those I do not understand, I do not trust. And I cannot stomach a lack of trust.
Eivor:
You have nothing to fear from me, King Harald. My loyalty lies with my brother, Sigurd, and I bear you no ill will.
King Harald:
Then know, that if you stay in Norway, both you and your brother must serve under me. Take tomorrow to think on this. But let us leave these matters for another time. Tonight, we will eat and drink like gods and wake in a kingdom made new.
Outcome
Before King Harald's althing, Basim taught Eivor how to blend into crowds. After scouting out Gorm's encampment, Eivor returned to attend the meeting and was surprised to hear Styrbjorn cede his clan and swear allegiance to Harald, a move which Sigurd strongly opposed.
Gallery
References