This article is about the memory of Ezio Auditore da Firenze. You may be looking for the memory of Kassandra.
Birds of a Feather was a virtual representation of one of Ezio Auditore da Firenze's genetic memories, relived by Desmond Miles in 2012 through the Animus.
Description
Following the death of Emilio Barbarigo, Ezio Auditore traveled to the Santo Stefano, where he caught sight of two Templar conspirators, Carlo Grimaldi and Silvio Barbarigo, on which he decided to tail them.
Dialogue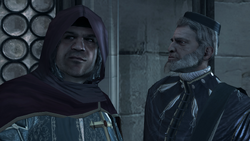 Ezio observed Carlo Grimaldi, who was seated on a bench, until Silvio Barbarigo approached him.
Silvio: Where is Emilio?
Carlo: I told him to be here.
Silvio: You told him yourself? In person?
Carlo: Yes, myself, in person. I'm concerned that you don't trust me.
Silvio: As am I. Perhaps he'll arrive with the others. Walk with me.
Carlo and Silvio began to stroll through the streets of Venice, to which Ezio followed some distance behind.
Silvio: So, how goes things at the palace?
Carlo: Honestly, it's difficult. Mocenigo keeps his circle close. I have tried to lay the groundwork, making suggestions, but he has other voices at his ears.
Silvio: Then you must work harder. You must become part of his inner circle.
Carlo: Sì (Yes). I understand. But it's harder than I expected.
Silvio: And why is that, Carlo?
Carlo: I don't know! He's just a... the Doge doesn't like me.
Silvio: I wonder why.
Carlo: It's not my fault! I keep trying to please him. I learn what he craves, and I have it delivered. The finest jams from the orchards of Sardinia, the latest fashions from Milano–
Silvio: Yes, and that's called being a sycophant.
Carlo: A what? What did you call me?!
Silvio: A doormat, a flatterer, a bootlicker. Need I go on?
Carlo: Bastardo! You don't know what it's like; you don't understand the pressure in there.
Silvio: Oh, I don't understand pressure?!
Carlo: No, you have no idea! You are a government official! I am two steps from the Doge himself. I am beside him day and night! You WISH you could be where I am!
Silvio: Are you done?
Carlo: Hardly. You listen to me now! I am close. The Doge can be recruited to our cause, I'm sure of it. I just... I need a little more time.
Silvio: Time is not a thing we have in great supply. Keep moving.
Carlo: Is it much further?
Silvio: Don't be such a little girl!
Carlo and Silvio reached the Basilica di San Marco, where they were met by Marco Barbarigo and Dante Moro.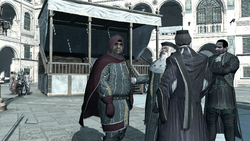 Marco: Buon giorno (Good day), cousin. Signor Carlo.
Silvio: We thought Emilio would be with you.
Marco: Emilio is dead.
Silvio: What? How?
Marco: È così (It is so). Silvio, did you not know? He could be anywhere. He could be here right now and we might not even know. He struck Emilio inside his own palazzo!
Silvio: And so, what of our plans?
Marco: There is no longer time for subtlety, my brothers. We must act now.
Carlo: But Marco, I'm so close! A few more days. If I can just–
Marco: No. It happens this week.
Dante: We should keep moving.
The four of them continued walking, and Ezio lurked close by again.
Silvio: And what does the Spaniard have to say of this change of plan?
Marco: You can ask him yourself soon enough.
Carlo: He's here? From Roma?
Marco: So I've heard.
Silvio: Good! Then perhaps he's made a decision.
Marco: About what, cousin?
Silvio: About which of us shall step into the robes of the Doge, "cousin."
Marco: I didn't know there was a decision to be made. Surely the choice is obvious to all.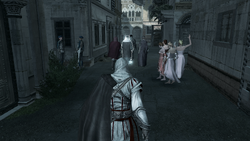 Silvio: Obvious, indeed. It should be the one who organized the entire operation; the one who came up with the idea of how to save this city.
Marco: There is no lack of value in tactical intelligence, good Silvio. But it is wisdom one needs to rule. Do not think otherwise.
Carlo: Calma, calma amici (Calm, calm friends), please. There is no need for this. You know, it's not up to either of you. For all we know, he might not even choose a Barbarigo.
Marco and Silvio howled with laughter.
Carlo: And why not me? I'm the one who's done all the hard work!
Marco: Basta (Enough)! We wait for his arrival.
Carlo: Are you sure he's coming?
Marco: Yes.
Dante: Signori (Gentlemen), we should move a little faster. I feel eyes on us.
Marco: Thank you, Dante. We will move at your pace.
Silvio: This guard's a good find, cousin. How much did you pay for him?
Marco: Perhaps not as much as he deserves. He's saved my life on two occasions, though he's not much of a conversationalist.
Shortly after, they came to a stop, and Rodrigo Borgia joined them.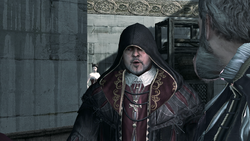 Rodrigo: Enough with your inane prattle! The choice of Doge was never up to any of you, and you were never given permission to make plans.
Marco: Forgive us, Maestro. We wish only to serve.
Rodrigo: The plan is this. Doge Mocenigo will die tonight. And once the deed's been done, Marco shall take his place.
Marco: Vi ringrazio umilmente, Maestro. (I humbly thank you, Master).
Rodrigo: Good. Messer Grimaldi, you are closest to Mocenigo, your work, the most vital. Serve us well, and it won't be forgotten. Walk with me.
The five of them continued walking, and Ezio kept up with their pace a short distance behind.
Rodrigo: I don't want any blood spilled, you understand? It must appear to all that he goes quietly.
Carlo: Certo, Maestro.
Rodrigo: When are you closest to him?
Carlo: I have full run of the palace. He may not care to hear what I have to say, but he trusts me by now as one of his own.
Rodrigo: Bravo. Then I want you to infiltrate the kitchen and poison his meal.
Carlo: So be it.
Rodrigo: Marco, can you furnish us with a suitable toxin on short notice?
Marco: I defer to my cousin. That is really his area of expertise.
Rodrigo: Ah, Silvio...
Silvio: I am at your service, Maestro.
Rodrigo: What can you bring to get this done?
Silvio: I will confer with my associates in the streets, but chances are good that I can procure some Cantarella.
Rodrigo: Yes, and what is that?
Silvio: It is a most effective form of arsenic and difficult to trace.
Rodrigo: Ah, va bene, va bene (good, good). Then it's decided.
The five soon reached the Ponte di Rialto and came to a stop.
Marco: Forgive me, Maestro, but is this not a tad dangerous for you, involving yourself so intimately with the minutiae of our plans?
Rodrigo: I feel the need to involve myself more directly. The Pazzi disappointed us in Firenze. I pray you will not do the same.
Silvio: Do not worry this time. The Pazzi were a bunch of foolish–
Rodrigo: The Pazzi were a potent and venerable family, reduced to rubble by one young Assassin. Do not underestimate this troublesome foe who now haunts your city, or the same fate will befall the Barbarigo. I want this done promptly. Bene, I must return to Roma. Time is of the essence. Do not fail us.
Rodrigo turned to leave, scaring away some pigeons.
Ezio: Che idiota sono (What an idiot I am)! I should have kept my eyes on them! I need to go and see Antonio if I've any hope of salvaging this mess I've made.
Outcome
Ezio discovered the planned assassination of Giovanni Mocenigo, the Doge of Venice, and subsequently reported it to Antonio de Magianis, the head of the Venetian Thieves' Guild.
Trivia
A visual glitch would occur if Ezio stood on top of a certain crate during the final cutscene, in which Rodrigo would look directly at him, yet not notice Ezio at all.

Similarly, when Marco stated that Ezio could be watching them without them knowing, it was possible to position Ezio into his direct line of sight.

The name of this memory was a part of the following proverb "Birds of a feather flock together," which means that those of similar taste congregate in groups. The memory reflects this, as the Templar conspirators grouped up together as they walked through Venice and discussed their plans.
References
Community content is available under
CC-BY-SA
unless otherwise noted.