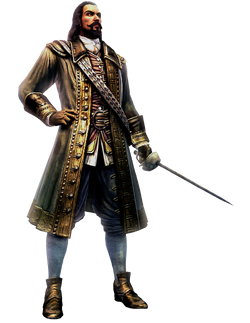 Bernardo de Gálvez y Madrid, Viscount of Galveston and Count of Gálvez (23 July 1746 – 30 November 1786) was a Spanish military leader and colonial administrator who served as colonial Governor of Louisiana and later as the Viceroy of New Spain.
De Gálvez aided the side of the Continental Army during the American Revolutionary War and dealt a heavy blow to the British Army. This made de Gálvez a notable target for the Templar Order.
In 2013, his genetic memories were used as an Animi Avatar by the entertainment branch of the Templar company, Abstergo Industries, to influence the general public via the Animus games console, under the title of the Governor.
Trivia
Historically, de Gálvez would eventually marry Marie Felicité, the second daughter of Gilbert-Antoine de Saint Maxent.
In the hacked version of de Gálvez's biography by Erudito, it mentions that despite his position in Louisiana, he was suspiciously absent from Assassin's Creed III: Liberation, which concludes in 1777, when de Gálvez began governing Louisiana.
Gallery
Appearances
References
Primary stage
Secondary stage
Tertiary stage
Quaternary stage
Community content is available under
CC-BY-SA
unless otherwise noted.