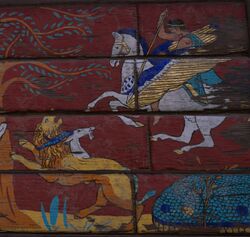 Bellerophon was a legendary hero in Greek mythology and the son of King Glaukos of Korinth.
He is best known as the person who caught the mythical winged horse Pegasos when the steed came to the Spring of Peirene to drink. Together with Pegasos, Bellerophon managed to slay the mythical beast Chimera.[1]
Legacy
During the Peloponnesian War, a garden which also served as a marketplace was dedicated to Bellerophon in Korinth. The hetaera Erinna visited the place while searching for her missing friend, a fellow hetaera Kleio. Anthousa, the leader of the Korinthian hetaerae, sent the Spartan misthios Kassandra there.[2]
Trivia
Appearances
References
Community content is available under
CC-BY-SA
unless otherwise noted.