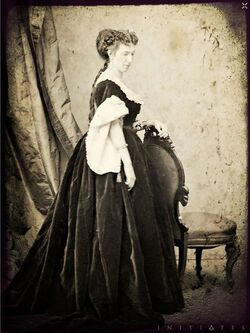 Isabella Marie Boyd (4 May 1843 – 11 June 1900), better known as Belle Boyd, was a Confederate spy during the American Civil War.
Biography
At the beginning of the American Civil War, Belle Boyd's hometown of Martinsburg, Virginia was occupied by Union troops. On 4 July 1861, Boyd and her mother refused to let Union soldiers into their house and hoist a Union flag over it. The officers wanted to display the flag as a symbol of the locals' submission to their authority. Boyd's mother declared: "Men, every member of my household will die before that flag shall be raised over us". After the soldiers' continued insistence, Boyd drew her pistol and shot one of them dead. Although she was tried, Boyd was acquitted on terms of justifiable homicide.
After the incident, Boyd began her spying career. During Martinsburg's occupation, she would casually interact with Union soldiers and gather information from them, only to pass it on to Confederate officers. Boyd continued to expand her operations across the South and the North. Her most notable success was when she gave crucial information to General Thomas Jonathan "Stonewall" Jackson during his 1862 campaign in the Shenandoah Valley. In spite of the fact that she was arrested multiple times during her career, Belle Boyd became one of the most famous Confederate spies of the Civil War.
References
Community content is available under
CC-BY-SA
unless otherwise noted.