Bearer of Mixed Tidings was a virtual representation of one of Ezio Auditore da Firenze's genetic memories, relived by Desmond Miles in 2012 through the Animus.
Description
Ezio had killed Tarik Barleti, who turned out to be innocent. He traveled to Topkapı Palace to deliver news of his actions to Prince Suleiman I.
Dialogue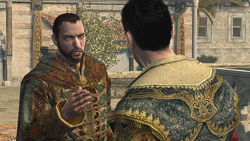 Ezio walked up to Suleiman.
Ezio: Tarik was no traitor, Suleiman. He too was tracking the Byzantines.
Suleiman: What? So did you...?
Ezio: I am sorry.
Suleiman: God forgive me. I should not have been so quick to judge.
Ezio: He was loyal to your grandfather to the end, and through his efforts we have the means to save your city.
Suleiman: Ah, Tarik. He should not have been so secretive. What a terrible way to do a good thing.
Ezio: The weapons were taken to Cappadocia. Can you get me there?
Suleiman: Yes, of course. I will arrange a ship to take you-
Ahmet walked up to Suleiman and Ezio hides.
Ahmet: Suleiman! Suleiman, I have been set up, and made to look a traitor! Do you remember Tarik, the Janissary?
Suleiman: The man you quarreled with?
Ahmet: He has been murdered. It is no secret that he and I were at odds. Now the Janissaries will accuse me of this crime.
Suleiman: This is terrible news, uncle.
Ahmet: When word gets back to my father, he will banish me from the city!
Ahmet saw Ezio.
Ahmet: Ah. Forgive me, nephew. I was not aware that you had a guest.
Suleiman: This is Marcello, one of my European advisers in Kefe.
Ezio: Buonasera. (Good evening.)
Ahmet: Marcello, my nephew and I have a private matter to discuss.
Suleiman: As I said, there will be a ship waiting for you when you wish to leave.
Ezio: Grazie, mio principe. (Thank you, my Prince.)
Ezio walked away.
Suleiman: We will track down the perpetrator of this crime, uncle. Have patience.
Outcome
Suleiman received the news about Tarik and arranged for a ship to take Ezio to Cappadocia.
Gallery
References
Community content is available under
CC-BY-SA
unless otherwise noted.