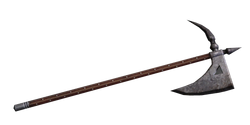 A bearded axe is a type of axe built since the 6th century and is commonly associated with the Vikings.
Description
The lower portion of the axe bit extending the cutting edge below the width of the butt is referred to as the "hook" or "beard", and provides a wide cutting surface while keeping the overall weight of the axe low. Efficiently used in combat to pull a weapon or shield from an enemy's grip.[1]
History
Viking Age
Bearded axes were used by the Vikings in combat. Occasionally they were dual-wielded.[2]
Renaissance
By the time of the Renaissance a "Bearded Axe" was a heavy bladed two-handed battle axe.[3] This inaccurate description was also carried onto the Ottoman Empire.[4]
Weapon statistics
Anglo-Saxon England (9th century)
Italian Renaissance (16th century)
| Name | Damage | Speed | Deflect | Cost | Availability |
| --- | --- | --- | --- | --- | --- |
| Bearded Axe | 2 | 3 | 4 | 7000ƒ | Sequence 1 |
Ottoman Empire (16th century)
| Name | Damage | Speed | Deflect | Cost | Availability |
| --- | --- | --- | --- | --- | --- |
| Bearded Axe | 2 | 3 | 4 | 8,050 | Sequence 2 |
Appearances
References