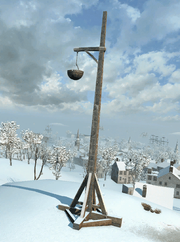 Beacon Hill is a historic neighborhood of Boston, Massachusetts.
Description
Beacon Hill was named after the beacon set on the hilltop by Puritan settlers. This beacon was essentially a "bucket full of pitch hanging from a pole." It was set up to warn the dwellers of the countryside in case of an attack on the town. However, the beacon was never actually used.[1]
As a result of the hill's top being carted off to fill in Mill Pond, the hill is now shorter than it used to be. This benefited property developers as it presented them with the advantage of building on the hilltop, and it created more land at Mill Pond.[1]
After the opening of the new Massachusetts State House in 1790, the hill became a popular place to live on. Property developers then created upscale housing on the south side of the hill, which overlooks the Boston Common.[1]
The less refined north side of the hill was inhabited earlier; it went by the nickname "Mount Whoredom."[1]
Trivia
Appearances
References
Community content is available under
CC-BY-SA
unless otherwise noted.