I wanted to ask you something. Which is… what's your name?


The title of this article is conjecture. Although the subject of this article is canon, no official name for it has been given.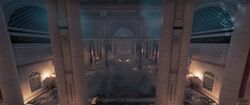 The Bathhouse of Alexandria was a bathhouse in the Egyptian capital of Alexandria.
Eudoros, a royal scribe and a member of the Order of the Ancients, often frequented the baths to treat his skin condition. The Cyrenean magistrate Simonides occasionally visited the bathhouse as well.[1]
History
In 48 BCE, the Medjay Bayek of Siwa travelled to the bathhouse to assassinate Eudoros, having learned his location from a papyrus at the Ptolemaic Royal Palace. Bayek sneaked atop the ceiling to pass by the guards and assassinated Eudoros by with his newly-acquired Hidden Blade.[2]
Gallery
Appearances
References