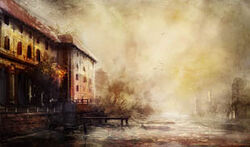 Basel is a city in Switzerland.
History
Circa 1520, Bombastus' workshop was located in the city.[1] There, he lived and worked alongside his assistant Maria Amiel.[2]
In 1520, the Assassin Giovanni Borgia visited Bombastus in Basel, in order to show him a Crystal Skull he had recovered from Tenochtitlan, México.[1]
Bombastus' workshop was where he kept the first half of the Book, and was also where he created the Philosopher's Stone.[1]
Appearances
References