New Pokemon Games - The Loop
Play Sound
Bartering was a virtual representation of one of Eivor Varinsdottir's genetic memories, relived by Layla Hassan through the Portable Animus HR-8.5.
Description
With Burgred of Mercia and his war-thegn Leofrith having fled Tamworth Fortress before its capture by the Great Heathen Army under Ivarr the Boneless and Ubba Ragnarsson, Eivor and her brother Sigurd Styrbjornson decided to pay a visit to Tonna, who they found out had forewarned the king about the castle raid.
Dialogue
Eivor rode to Tonna's camp at Tonnastadir and overheard Ivarr and Ubba speaking to Sigurd.
Ivarr: This is not going to end well.
Ubba: Just keep you wits about you.
Sigurd: Calm, Ivarr. Me and Eivor will take care of this.
Ivarr responded flatly.
Eivor approached and spoke to Sigurd.
Eivor: Sigurd, is there a problem?
Sigurd: We'll go see Tonna, just the two of us. Ivarr and Ubba will wait here. Better if Tonna thinks we've come alone. The truth is, I don't think any of us can stop Ivarr from cleaving her head open. It's all he was spewing the whole way over here.
Eivor: Right. Shall we?
Sigurd spoke to Ubba and Ivarr.
Sigurd: We'll return shortly.
Ivarr: A small fortune for whoever sends Tonna to Hel.
Eivor: I'll hold you to that.
Eivor resumed talking to Sigurd as they walked together to the gates.
Eivor: From what I overheard in Repton, the brothers had an arrangement with Tonna. What happened?
Sigurd: She's a mercenary. Ubba used her for men and information. But that relationship soured now that Burgred is all but defeated. From what I've heard, Tonna has a hunger for two things, soft silver and a stern hump. Neither of which earns you true loyalty.
Eivor: If she can't be trusted, what use is she?
Sigurd: That is for us to find out. We may be able to satisfy her...
Eivor: And if we can't?
Ivarr: Ivarr did tell you to bring your axe.
The siblings climbed the hill to Tonna's camp and quietly whispered to each other as they approached the open gates where Tonna was waiting.
Tonna: And here they are. As expected.
Sigurd: If she takes a liking to you, keep talking.
Eivor: She's more your type, I think.
Sigurd: No, no. This is your challenge.
Tonna: Come now, don't drag your feet.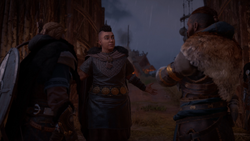 The siblings met and spoke to Tonna.
Tonna: Sigurd. What brings you strolling into my camp this brisk day?
Sigurd: I suspect you already know.
Tonna: Yes.
Tonna sniffed.
Tonna: The embers on the air betray you. And yet, if you are here talking to me, King Burgred remains at large.
Tonna took notice of Eivor, looking her up and down.
Tonna: And you are you, lovely dove? Want to perch your ass on my lap?
Eivor: Call me Eivor. Or Wolf-Kissed. "Lovely dove" will get your throat cut.
Tonna: Come now. You are too clever to run with those Ragnarsson dogs. Plenty of room on this side, if you want to earn some coin.
Eivor: We came for your help, not your flattery.
Eivor:
Not interested.
Tonna:
And why not? I've been told I have a rather expert tongue.
Eivor:
Only good for yawping, I see.
Tonna: (laugh)
Sigurd:
Enough blabbering. You know why we're here.
Eivor:
That's not why I'm here.
Tonna:
"Where is King Burgred?" That is what you want. And what makes you think I have the slightest idea?
Eivor:
We found letters, records of trade. The two of you have a history.
Tonna:
What can I say? The king pays well for my services. If only I could say the same for those two Ragnarsson clods.
Eivor:
You're dealing with me now. And I want to know what you know. Name your price.
Tonna considered the offer and put her hands on her hips.
Tonna: Very well. I could use another cow. And you can cover the cost.
Tonna turned around and walked back into her camp.
Eivor: Ledecestre and Templebrough Fort. Do you know these places?
Sigurd: I don't, but the brothers will. I'll bring this news to them. Don't stay around here long. We've got a king to catch.
Sigurd left Eivor at the gates. Before leaving, Eivor entered the camp and spoke to Tonna once more.
Tonna: Watch yourself, lovely dove.
There's nothing left for you here.
Why are you still here?
Eivor looked around the camp, but didn't find any more clues.
After Tonna left and the gates closed, Sigurd sarcastically responded to Eivor's choice of words.
Sigurd: Well, that is not the result I was hoping for. I hope you have another idea.
Eivor: Tonna keeps a close eye on whoever she deals with. If Burgred is keeping records, so is she. Somewhere behind those walls.
Sigurd: See what you can find. I'll go back to the brothers.
Sigurd left Eivor at the gates as Tonna prepared her defenses.
Tonna: Keep those gates locked. If they come within a foot of here, kill them.
Eivor infiltrated the fort and eavesdropped on a conversation between two guards.
Norse Warrior: What happened out there?
Norse Warrior 2: The Ragnarssons came through, just like Tonna said they would.
Norse Warrior 1: I suppose they didn't reach an agreement.
Norse Warrior 2: Ha. What gave it away?
Sneaking through the grounds, Eivor soon found Tonna's longhouse.
Eivor: Tonna's longhouse. I should have a look around.
Eivor entered the longhouse and searched the interior as she killed or evaded the guards. She soon found a key and journal page on a table in the back corner opposite a caged wildcat.
Tonna's Journal
I have seen Repton's insides, what those Danes have done to it in such a short time. You can hardly tell the town was once Saxon. This Ragnarsson army is well-led. To stand between them and Mercia's throne would be our death.

Instead, we will balance on the fringes. Gather secrets and squeeze the most out of each side. It is a dangerous game, but one we are fit for.
Taking the key, Eivor left the longhouse and continued exploring the camp. She soon found a locked and guarded opening in a stone wall beneath a building. Eliminating the guards, Eivor unlocked gate and continued deep underground, where she came across a store of treasures and a table of scrolls which had a note from Ivarr.
Letter from Ivarr
I beat your envoy for even uttering your daft demands. Made him red in the arse. Might be purple by the time he reaches you. If that does not make it clear enough, I will speak plainly here.

We pay you in wares. Burgred's weregelds belong to us. Don't like it? Bring your sagging cow udders to Repton and flail them about. Spare your envoy another beating.

O, and if you find this letter reeks of piss, it's because it's soaked in mine.
Eivor exited the tunnels and eventually found a building at the back of the camp with a balcony decorated with two gibbet cages, one of which was occupied by a corpse.
Eivor: Tonna's house. I might find something useful there.
Eivor entered the house and saw the boarded-up opening to a bolt-hole in the floor.
Eivor: Clever. Let's see what secrets you keep, Tonna.
Inside, Eivor found a number of scrolls, various valuables, and a jail cell embedded into the wall littered with bones and holding two more occupied gibbet cages. Unlocking a treasure chest, she found a note.
King Burgred's Offer
To the one called Tonna,

You will have noticed the sum of silver delivered to your camp is of a considerable amount. King Burgred seeks to buy a small loyalty from you: your eyes and ears in Repton.

Listen especially for Ledecestre and Templebrough Fort. If ever you hear these regions in the Ragnarssons' plans, you are to deter them and inform the monarchy immediately.

Do this for the king, and your coffers will overflow.

Signed,

A Noble Servant of the Lord King of Mercia.
Eivor commented on her find.
Eivor: This might be something. Looks like Burgred once paid Tonna to steer the Ragnarssons away from two areas. Burgred's private haunts perhaps? He could be at either one. Shouldn't have been so greedy, Tonna. Right. Back to the brothers.
Eivor left the home and made her way to exit the camp, either escaping undetected, assassinating Tonna, or being intercepted by Tonna, who attacked her for trespassing.
Tonna: Bad idea, lovely dove. Now I'm going to make you regret it.
I am taking your head back to the Ragnarssons. That'll teach them to cross me.
Despite her skill as a warrior, Tonna proved no match for Eivor and was killed.
Eivor: Straight to Hel with you.
Eivor left Tonnastadir and rode to where Sigurd and the Ragnarssons had pitched camp a good distance away. She spoke to Ubba, who was watching the fire, as Sigurd came up beside her.
Ubba: Sigurd's told us the news. Well done.
Ubba:
Eivor. Tell us you learned something.
Eivor:
Ledecestre and Templebrough Fort. What do you know about them?
Ubba:
Hm. Ledecestre is a large village. And Templebrough... it's an old military fort, not much else.
Eivor:
Burgred could be an either one. We should check both. As soon as possible.
Ivarr spoke from his spot on a nearby log.
Ivarr: And what do we do with Tonna? I would bet the sweat off my sack she's writing to Burgred now, offering silver for a warning about us.
Eivor: Let me worry about that.
Eivor:
You won't be seeing her again. Not unless you are bound to Helheim. I'll collect now, if you don't mind.
Ivarr:
Ah. This one takes after me, brother.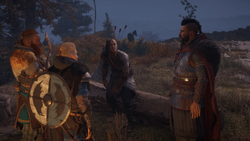 Sigurd: We should get moving, drengr (courageous warrior). I can take the fortress at Templebrough.
Ubba: I will join you, Sigurd.
Ivarr rose from his log, crossing his arms.
Ivarr: That leaves me Ledecestre, then. All by my fucking lonesome.
Ubba: Bring a friend, brother. Maybe Eivor dares to be called that.
Eivor: Go on ahead. I'll catch up with all of you soon.
Outcome
Eivor and Sigurd interrogated Tonna and learned that clues to Burgred's whereabouts likely could be found at Ledecestre and Templebrough Fort.
Behind the Scenes
If Eivor pays Tonna, she is allowed to wander through the camp except for the underground and training areas, which are restricted. If she is noticed getting into Tonna's bolthole, she will also be attacked. This will last until Eivor leaves Tonnastadir.
Eivor's response when Ivarr asks what they're going to do about Tonna is dependent on whether or not Tonna has been killed before returning to the brothers. It is possible to pay Tonna and then assassinate her. It is also possible to infiltrate her camp and not kill her.
Gallery
References