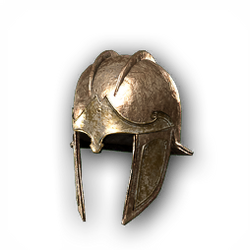 The Bandit Lord Helmet was a helmet which belonged to the corrupted Kydonian guard Captain Diokles during the 5th century BCE.
During the Peloponnesian War, the helmet was claimed by the Spartan misthios Kassandra after she slew Diokles.[1]
Weapon statistics
Rarity
Armor (Lvl 99)
Default Engravings
Availability
Rare
+% Hunter Damage
+% Chance to Ignore Half Damage
Complete Civil Unrest
Description
The bandit who owned this won't be terrorizing Messenia (sic) anymore.
Behind the scenes
The Bandit Lord Helmet, a piece of armor in Assassin's Creed: Odyssey, shares the same model as a variant of the commonly found Illyrian Helmet, another piece of armor in the same game, meaning that it is based on the Illyrian type helmet. However, it is depicted with a small nose guard which was not present on real helmets of this type.
The description of the Bandit Lord Helmet erroneously claims the region wherein Diokles caused problems to be Messenia, instead of Messara.
Appearances
References
Community content is available under
CC-BY-SA
unless otherwise noted.