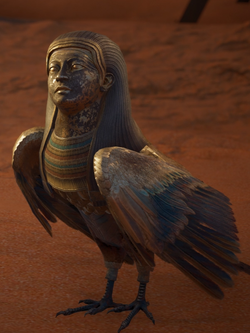 In ancient Egypt, the Ba was one of the five parts of the soul, and represented the "personality" of a human. The Ba was believed, by the Egyptians, to be an aspect of each individual that would continue living after their death; also, it is sometimes portrayed as a human-headed bird flying out of the deceased individuals' tomb to reunite with their Ka (or "vital spark") in the afterlife.
When the Hidden One Bayek of Siwa travels to the afterlife he often encountered the Ba's of spirits. They were depicted with a vulture body and the head of a woman and can be seen flying specific locations, including the Gate of Aaru. Killing these Ba's would yield their feathers as a rare 'animal' good.
Bayek also encounters one such Ba on earth, at the tomb of Ramesses II. It turns out she's the wife of Ramesses II and asks Bayek to help him find the peace he deserves.[1]
Trivia
The Ba being portrayed as a human-headed bird fits with the numerous avian themes present in the Assassin's Creed franchise.
Appearances
References
Community content is available under
CC-BY-SA
unless otherwise noted.