This article is about the Titan. You may be looking for the Isu.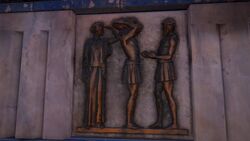 Atlas is a Titan in Greek mythology. He is best known for holding aloft the celestial heavens.
Mythology
According to the myths, Atlas had to be passed in order to reach the garden of the Hesperides. Due to this, he met Herakles, who had been sent by his cousin, King Eurystheas of Mycenae, to fetch the golden apples said to grow in the garden as part of his twelve tasks. Herakles promised Atlas to take his place if the Titan fetched some apples for him, but instead tricked Atlas and walked away with the fruits. Atlas was left back to his duty.[1]
Influence
In 5th century, a cave in Arkadia was dedicated to one of the many daughters of Atlas, and it was explored by the Spartan misthios Kassandra.[2]
Behind the scenes
His name has later come to denote a collection of maps.
Appearances
References
↑ Assassin's Creed: Odyssey
Community content is available under
CC-BY-SA
unless otherwise noted.