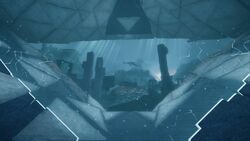 Atlantis is an ancient Isu city situated at the bottom of the Aegean Sea, beneath the island of Thera, Greece.
Around the year 429 BCE, the Gateway to the Lost City, which connected Atlantis to the surface world, was visited by the Spartan misthios Kassandra. There, she discovered her biological father, Pythagoras, along with the Staff of Hermes, which had kept him alive for a very long time.[1] Together, they used the Atlantis artifacts to seal the entrance to the city.[2]
Description
Pythagoras compared Atlantis' function to that of a library, containing all of the knowledge of the Isu; including their physiology, scientific advancements, historical knowledge, culture, and beliefs.
Gallery
Appearances
References