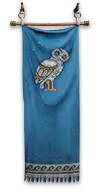 The Athenian military was the military force of Athens, one of the major poleis of Ancient Greece.
Notable generals included Perikles, Alkibiades, Thucydides, and Demosthenes.         
History
In 490 BCE, the Athenian military engaged an invading force from the Persian Empire on the Beaches of Marathon and was victorious.[1]
During the Peloponnesian War, the Athenians were deployed across Greece and served as one of the primary armies of the Delian League. In this capacity, they fought against the army deployed by Sparta and the Peloponnesian League.[2]
Military units
Appearances
References
Community content is available under
CC-BY-SA
unless otherwise noted.