Dead Cells Final DLC - The Loop
Play Sound
Assault was a visual representation of one of Altaïr Ibn-La'Ahad's genetic memories in the Animus 1.28.
Description
Altaïr followed Maria into the Templar Archive, in order to assassinate the Grand Master Armand Bouchart.
Dialogue
Altaïr proceeded through the Archive into its main chamber. There, he found Maria facing Bouchart in combat, though she was knocked out in the end.
Altaïr dueled Bouchart and impaled him with his sword.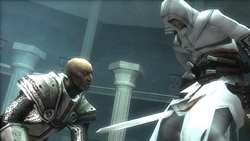 Bouchart died as Altaïr and Maria escaped the collapsing Archive and made their way to the Limassol port.
Altaïr took out the Apple of Eden and gazed upon it.
Later on, Altaïr wrote another entry in his Codex.
Outcome
Altaïr eliminated Armand Bouchart and escaped the collapsing Templar Archive with Maria.
Gallery
References