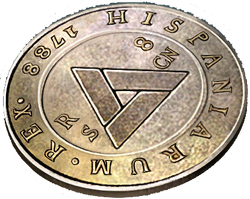 Assassins' coins were coins smuggled into New Orleans and the Louisiana Bayou by foreign smugglers.
During her career as an Assassin, Aveline de Grandpré beat up smugglers throughout Louisiana to acquire the coins, amassing a vast collection.
Trivia
Collecting the coins came available in the sequence 4 and can be found only if Aveline is in Assassin Persona.

To collect the coins, the player must identify the smuggler using eagle vision and kill him in order to loot the coins.

The coins feature the text "Hispaniarum Rex" – Latin for "King of the Spains", pointing to a Spanish origin – as well as the year 1788.
Strangely, the coins feature the Abstergo Industries logo, while the last coins were collected in 1777, 160 years prior to the company's founding.
Despite the coins' Templar connotation, the reason behind their title is due to them being collected by Aveline while wearing her Assassin outfit.
Collecting all of the Assassins' coins granted Aveline the Bayou Hunter outfit for her Assassin persona, which could then be bought for free at any tailor shop.
References
Community content is available under
CC-BY-SA
unless otherwise noted.