The apprentices, also referred to as Assassin recruits, were formerly normal citizens saved by Ezio Auditore from the rough streets of Rome, during the war against the Templars.[1]
They subsequently devoted themselves to learning the ways of the Assassins Guild, motivated by their drive for revenge against the Borgia for corrupting their beautiful city, and for harassing them on a daily basis.[1]
Operating out of the Tiber Island headquarters, the apprentices were often sent on contract missions across Europe and Asia, in order to improve their skills and combat experience. When not on assignments outside of Rome, the apprentices would support the efforts of Ezio and his allies, providing reinforcement during Ezio's own missions.[1][2]
Recruitment
Realizing the efforts of the people of Rome to resist the Borgia, and that he would need an army of loyal Assassins to combat the armies of Cesare Borgia, Ezio traveled throughout the city, assisting the citizens wherever and whenever he could. He found many either being terrorized by or fighting against the city guards, and rescued them by killing the guards.[1]
Upon doing so, he would offer each the chance to stand with him in his Brotherhood, and should they accept, he would send them to Niccolò Machiavelli to officially become an Assassin understudy.[1]
Ezio's Brotherhood operated with multiple apprentices at a time (all of whom could either be male or female), who he instructed in combat, free running, pickpocketing, blending, and other such skills.[1][2]
Mobilization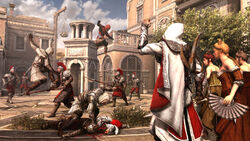 During his own missions, Ezio was able to have up to six apprentices support him. They would often operate in pairs or alone, and were commonly called upon to perform Arrow Showers (wherein they would fire arrows upon any target from above), to engage in direct combat with an enemy, or to perform assassinations. Each time, Ezio would signal the apprentices to strike by raising his arm and clenching his fist.[1]
When operating without their mentor, the apprentices would move in teams, led by a single Assassin appointed by Ezio. Together, they would complete missions across Italy (such as Rome, Florence, and Venice) as well as the rest of Europe and beyond (including Constantinople, Lisbon, Barcelona, Moscow, Paris, London, Cologne, Vienna and Calicut).[1][2]
Though they would not always survive these missions, the apprentices would always return with greater skills and experience, as well as money and items they had obtained during their travels.[1]
Equipment and skills
Assassin apprentices were trained in a wide variety of skills and weaponry, including swords, spears, smoke bombs, throwing knives, crossbows, guns, and, of course, the hidden blade. Each were also capable horsemen, and were able to do battle from horseback.[1][2]
Their armor and weaponry could be customized however they chose, with each allowed to decide whether they would specialize in attack, defense, or both.[1]
Apprentices were also given trainee robes to wear to show their affiliation to the Order. Although these were all identical, standard white robes, they were permitted to dye them a variety of colors. Once inducted into the Order as full Assassins, they were given white Assassin's robes, similar to that of Ezio's.[1]
Promotion
Main article: Initiation to the Assassin Order
Apprentices started at the bottom of the Order, at the Recluta (Recruit) rank. As they gained experience and advanced in their skills, they would progress through several titles, before being granted the Assassino rank.[1]
Upon completing their training, the apprentice was allowed to formally join the Assassin Order as a full-fledged Assassin. An induction ceremony would be held within the Tiber Island headquarters, where, as per tradition, the apprentice's left ring finger would be branded, and they would perform a Leap of Faith from the building's roof.[1]
Though they did not gain the dual hidden blades upon promotion (which were reserved only for Master Assassins), they were instead given a certain sword identical to those used by the Masyaf Assassins of old, including Altaïr Ibn-La'Ahad.[1]
Trivia
Development
Guild Management
Equipment
Combat
Behavior
Gallery
References
Community content is available under
CC-BY-SA
unless otherwise noted.