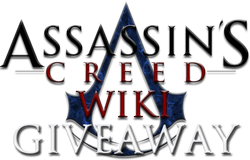 Ever wonder what it would be like to have Eagle Vision? Well now you can come one step closer to achieving that goal as GUNNAR has the solution with their Optiks Advanced Gaming Eyewear. "A technical eyewear solution that helps protect, enhance and optimize vision." as their information website reports. These high-tech glasses allow for an improved gaming experience that any hardcore Assassin's Creed fan would want.
GUNNAR
GUNNAR Optiks Advanced Gaming Eyewear is a technical eyewear solution that helps protect, enhance and optimize your vision. Whether you are gaming for long hours or working on the computer GUNNAR eyewear helps minimize eye fatigue and visual stress, while improving contrast, comfort, and focus. For more info visit Gunnar's site and learn how their tech works.

Competition
Starting on September 15th, 2012, Assassin's Creed Wiki in association with Wikia Corporation is giving away three pairs of GUNNAR glass to our users. The giveaways are a caption contest, an art competition where you can paint, draw, or digitally design two unique Assassin's Creed inspired pieces. We will judge the best and decide who gets the glasses. The last pair will be given away through a lottery, meaning its entirely random, based on who signs the lists.
Entry
The giveaway as a whole consists of three methods of entry:
A creative caption contest.
Art competition (2 images maximum)
A random lottery.
We feel that this gives everyone a fair chance of winning – For those entrants with witty talent, there is a caption contest, for those with artistic talents, there is the art competition and for those who wish to try their luck, we have the random lottery.
Participation in any or all categories is acceptable. If one should choose to enter a creative caption and puts their name forward for the lottery draw, they would double their chances at winning and well you get the idea. ;)
Creative Caption
An entry should consist of a creative caption, on the subject of:

"Hangover!! Assassin's Creed style."
One entry per user. Duplicate entries will be disqualified.
Entrants should submit their quote on this page.
Art Contest
And now, something for our more artistic users. Your mission, should you choose to accept it, is to make a lovely piece of artwork. The only requirement is that it is Assassin's Creed related and an original piece created by the uploader.
Two images per user. Any further images will be disqualified.
Entrants should submit their artwork on this page.
Lottery
Entrants should sign their name on the Contest page. Each name will be numbered, and after the contest is over, a number between 1 and the value of the last entry at the time which the contest ends will be chosen, with a random number generator. This value will then be taken back to the Contest page, and whoever's name matches up with it is the winner!
One entry per user. Further entries will be disqualified.
Entrants should sign their names on this page.
Terms and Conditions
Contestants must be currently residing in the United States of America or the United Kingdom.
Each person is limited to one, and only one, entry.
All applicants must have registered Wikia accounts. If you don't already, this is easily rectified by visiting the login page. ;)
Entries must be placed beneath the last entry on the list. No cutting ahead of others. Anyone found guilty of this will be removed from the list and exempt from winning.
Staff members cannot enter either contest.
Any entries made by non-logged in users will be removed.
Reminder
The Assassin's Creed Wiki Staff would like to remind you that entry in all 3 categories is permissible, but each user is only allowed to submit one creative caption and enter the lottery once. Any entries surpassing these limits will be disqualified.

Again, the contests begin on September 15th, 2012 and end on September 30th 2012 (00:00 UTC). Any questions should be directed to the IRC or the talk page of a Staff member. Good luck!

Best of luck everyone and remember if you are not in you can't win!
Community content is available under
CC-BY-SA
unless otherwise noted.