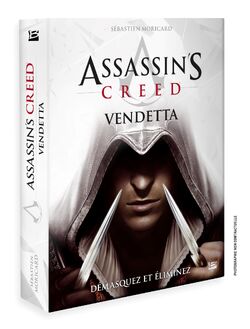 Assassin's Creed: Vendetta is a card game developed by Bragelonne. It was released on October 18, 2017 in France. 
Description
With Assassin's Creed: Vendetta, play as an Assassin or Templar, unmask your opponents and hit them at the right time.
Since the beginning of time, the Assassin Brotherhood and the Templar Order have been waging a merciless war to impose their vision for the future of Humanity. With the killer game Assassin's Creed®: Vendetta, relive this age-old confrontation as an Assassin or a Templar, and do everything you can to eliminate members of the opposing faction. Thanks to your Eagle Vision power and your item, you will need to be cunning and use stratagems to fulfill the "elimination conditions" that fall upon you and thus achieve victory.
Eliminate your enemies in total discretion, or act in the middle of the crowd ...
From 6 to 12 players.
References
Community content is available under
CC-BY-SA
unless otherwise noted.