Raise a Floppa - The Loop
Play Sound
Assassin's Creed: Uprising is a comic book series published by Titan Comics. The comic is written by Dan Watters and Alex Paknadel and illustrated by Jose Holder with the first issue released in February 2017.
The series marked the end of the Phoenix Project storyline which began in Assassin's Creed: Unity.[1]
The first arc is set only in modern day 2017, dealing with the Assassins and Templars fighting the Instruments of the First Will when not attacking each other.
The second arc continues the modern day story of fighting the Instruments and has Charlotte de la Cruz reliving the memories of her ancestor Ignacio Cardona in 1937, Spain.
In the third and final arc, Charlotte continues reliving Cardona's memories to find the location of the Koh-i-Noor. Meanwhile, as Resurrection Day approaches, the Instrument's plan is to revive Juno.
Press release
Kicking off in February, the series will follow the ongoing Phoenix Project storyline, and feature several characters from Assassin's Creed lore, including Juhani Otso Berg, Galina Voronina, Kiyoshi Takakura and Arend Schut, in addition to Charlotte de la Cruz and Black Cross from Titan's current Assassin's Creed & Templars comics.

In the first arc, tensions are running high for both the Brotherhood and the Templar Order. A nefarious new world order is on the horizon, and only a united team of Assassins have the knowledge and skill to save humanity from subjugation.[2]
Development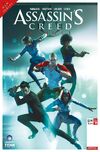 At the New York Comic Con 2016, the series was announced as a relaunch of both Assassin's Creed: Assassins and Assassin's Creed: Templars. During development, the series was listed as both Assassin's Creed: Apogee and Assassin's Creed: Defiance. An apogee is the highest point, the climax, or culmination, of a development.[3]
Media
Color code key:
Collected (TPB) issue
Released issue
Future issue
References