Assassin's Creed: The Fall is a 2010-2011 comic book by Cameron Stewart and Karl Kerschl split into three separate issues, initially published by WildStorm Comics and later by Ubiworkshop.
The comic book, consisting of three issues, followed the journey of the Russian Assassin Nikolai Orelov during the late 19th and early 20th centuries, whose genetic memories were viewed by his present-day descendant Daniel Cross.
A sequel comic book entitled Assassin's Creed: The Chain, again following the lives of Daniel Cross and Nikolai Orelov, was released in Summer of 2012.[1]
Description
Edit
Written by KARL KERSCHL & CAMERON STEWART Art and cover by KARL KERSCHL & CAMERON STEWART The monster-hit, historical fantasy/sci-fi Assassin's Creed video game from Ubisoft breaks into comics with a stunning 3-issue series written and illustrated by acclaimed creators Karl Kerschl (WEDNESDAY COMICS, ADVENTURES OF SUPERMAN) and Cameron Stewart (BATMAN AND ROBIN)! ASSASSIN'S CREED: THE FALL follows 19th century Russian assassin Nikolai Orelov as he strives to claim an artifact of immense power from the hands of the Templars, leading to a climactic and violent showdown with the ruthless Tsar Alexander III aboard a speeding train! Meanwhile, in modern times, a troubled young drifter copes with unsettling visions of a possible past life - visions that have irreversible consequences for the present. ASSASSIN'S CREED: THE FALL is an exciting new chapter in the popular series that no fan will want to miss![2]
Color code key:
Collected (TPB) issue
Released issue
Future issue
Special editions
Edit
Deluxe Edition
Edit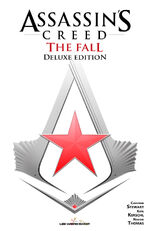 The Fall Deluxe Edition was a softcover special edition that brought all three issues of the The Fall, plus an exclusive 10-page epilogue, which would also act as transition towards the next comic saga, Assassin's Creed: The Chain.
This edition had a total of 128 pages, including the exclusive epilogue and a making-of section.[4]
It is also included in the Assassin's Creed Red winter bundle (containing the deluxe edition and a hoodie featuring the Russian Assassin insignia) in Ubiworkshop.
Subject 4
Edit
Assassin's Creed: Subject Four is a compilation from UbiWorkshop, which comprises both the complete issues of The Fall, as well as its sequel, The Chain.[5]
Behind the scenes
Edit
The series was initially planned as an expansion of the travels of the Assassin Ezio Auditore, but it was moved to an entirely new setting and character to provide greater artistic freedom to the writers. Despite this, the comic still utilized the long-standing feud between the Assassins and Templars for the basis of its story.[6]
Inspiration for The Fall came from the book The Manchurian Candidate by Richard Condon. The main character, Captain Bennett Marco, was brainwashed by the Communist Party to act as their sleeper agent, acting on their orders whenever he saw the Queen of Diamonds playing card. In The Fall, Abstergo programmed Daniel Cross to kill the Mentor when the moment of opportunity presented itself.[7]
References
Edit
↑ Assassin's Creed: The Fall - Deluxe Edition