Fire Emblem Warriors: Three Hopes - The Loop
Play Sound

Assassin's Creed: Pirates is a spin-off game for smartphones and tablets developed by Ubisoft Paris and released on 5 December 2013. As of the release of iOS 11, the game is no longer available for download on the App Store and Google Play.
Plot synopsis
***More than 10 million pirates already***
***More than 200 million heroic naval battles fought***
One of the world's greatest action franchise is available on your mobile device! Become one of the most feared pirates of the Caribbean in this exclusive Assassin's Creed adventure!
Play as Alonzo Batilla, a young and ambitious pirate captain, break the rules, challenge empires and amass gold!
ENGAGE IN BRUTAL NAVAL COMBATS
Fight in real-time naval battles all over the Caribbean Sea.
Choose from a wide range of weapons from the pivot cannon to the mortar, to destroy your foes and manoeuver to dodge enemy shots.
Show your skills, defeat legendary ships in battle and become a true pirate legend!

BUILD UP YOUR CREW AND YOUR SHIP
Raise your flag on the most iconic boats of the Golden Age of Piracy; ranging from the smallest ship to the Man O'War floating fortress.
Upgrade your vessel with legendary customizations and the massive bounty plundered on the wild seas.
Build your naval empire by recruiting the finest crew members and learn more than 50 new pirating techniques, cannon & sail upgrades to become a better captain and master naval battles.
EXPLORE THE IMMENSITY OF THE CARIBBEAN... AND MUCH MORE!
Sail throughout a vast array of islands as you explore a huge map.
Search for nearly one hundred treasures and lost files.
Run through dozens of lost Mayan temples, dodge obstacles using epic assassin's parkour moves and collect mayans stones.
Parkour temples to find the fragments of ancient treasure maps.
Hunt sharks, whales and exotic fish to never run out of supplies.
Furnish your fish collection with marvelous sea trophies, from small fry to massive sharks.
Live the epic pirate life, raise the black flag and loot a merchant ship loaded with gold or set sail on quest to battle a slave ship.
Beware of the English empire and the Spanish crown and their powerful master ship, as a pirate you are always on the run.
Compete with your friends for the highest bounty.
DISCOVER GROUNDBREAKING 3D VISUALS ON MOBILE AND TABLETS
Bask in the West-Indies sunshine, admire beautiful sea sunsets, navigate ice mazes and sail through the night along breathtaking coastlines.
Changing weather conditions directly impact the way you run your ship and redefine every landscape.
Beware of storms and of the treacherous fog that will conceal your enemies until the last moment!
Master the sea to become the most skillful pirate of the Caribbean Sea and be victorious in battles.
EMBARK ON AN EPIC QUEST FOR A LEGENDARY TREASURE
Live a naval adventure that will reveal the truth about the mysterious lost treasure of the famous French pirate and assassin La Buse.
Cross paths with Assassins and Templars and take part in their age-old struggle.
Meet the most notorious and colorful pirates of the era, including Sam Bellamy, Ben Hornigold, Charles Vane and Blackbeard!.[1]
Development
The game was announced on 10 September 2013 alongside Assassin's Creed III: Liberation HD. Ubisoft revealed that the storyline of Assassin's Creed: Pirates wouldn't be connected to Assassin's Creed IV: Black Flag and that it was also separate to the Assassin's Creed IV: Black Flag companion app.[2] A debut trailer was released, showing the story and naval combat.[3][4] The game released on 5 December 2013 priced at $4.99 USD.[5][6][7]
On 9 January 2014, the first update was released, included new location Nassau.[8][9] On 7 March, the second update was released, included new location, new mission type: survival Missions, fish and hunt whales and two new ships.[10] On 16 May, the third update was released, included new location La Boca del Diablo, daily challenges.[11][12] A web demo version of the game released on 19 may 2014, the game was built with open-source framework Babylon.js.[13] On 11 July, the fourth update was released, included new location Isla de la Juventud.[14][15] On 4 September, an expansion in the form of a free update entitled Cold Blood was released, incorporating Arctic areas inspired by Assassin's Creed: Rogue. On the same day, the game also became free-to-play.[16][17] On 22 December, another expansion update called The Lost Temples was released. This update gave players the opportunity to leave their ships and explore 64 hidden Maya Temples on land. In addition to the Mayan temples, 24 new treasure chests were added to track down on land. A further 50 new daily quests were also added.[18][19]
On 11 June 2015, a final expansion called Quest for Eden was released alongside with a trailer, concluding Alonzo's story and quest for La Buse's treasure.[20] For 2015's Christmas event, update 2.6.1 was released containing an exclusive treasure set and ship customization.[21]
On 3 February 2016, update 2.8.0 was released to celebrate Chinese New Year. It included exclusive treasure set and customization options created for the event. Additionally, players could now obtain Blackbeard's vessel the Queen Anne's Revenge.[22]
On 19 February 2017, with the release of the iOS 11 update, Assassin's Creed: Pirates was removed from all digital store fronts. Although, this was done quietly with no announcements.[23] However, users who already had purchased the game can re-install it from the App Store's purchase history. Connectivity may be limited.
Gameplay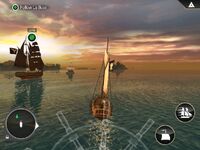 Set during the Golden Age of Piracy, Pirates has players take the role of Alonzo Batilla, a French pirate captain. The game focuses on naval combat, similar to Assassin's Creed IV: Black Flag. As well as naval combat, players can also manage their crew, and upgrade their ship. Sailing in Alonzo's ship, players can explore and discover new areas of the Caribbean.[7] There is no modern-day story, the only connection is a small reference in the opening cutscene about Abstergo Entertainment discovering Batilla's connection to La Buse.[24]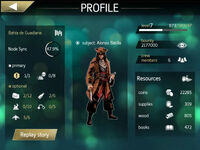 Several missions are available in each map: one Story mission and many secondary missions. To start a mission, sail to the mission trigger -in immersive or tactical view- and tap on the Go button. The main objective is to finish the Story mission and to move to the next map section known as "playgrounds". Completing the secondary missions will reward players with extra experience and resources and allow them to improve their ship. There are two ways to control Alonzo's ship with touch controls. In immersive view: hold and move a finger on the ship's wheel. In tactical view: draw a path from the ship to a destination. The resources that can be earned as well as the player's character stats are available in the Player Profile, accessible from the pause menu.[25]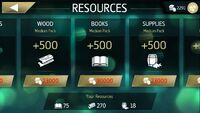 All the playgrounds can be found through the node map. To travel to another node, just tap on it. But each time travel is initiated from node to node there is a resource cost, so care must be taken to manage resource quantity. Treasures can be found on each map. When enough enemies are defeated, treasure maps will be awarded in parts. Each treasure map reveals a treasure location. Switch to tactical view and sail to the treasure location before using the spyglass to spot and collect the treasure. Lost files are spread out everywhere in the playgrounds. To collect the lost files, players are required to explore the map in immersive view. Once a lost file appears on the radar, sail towards it and tap on it to retrieve it.[25]
Crewmembers are unlocked as player's level up. They can be hired directly by visiting the Tavern. Each time a crewmember is hired, the player will be granted perks that can be equipped to improve navigational or combat skills. Perks can be equipped by pausing the game and accessing the Perks menu. Once in the menu, drag and drop the desired perks from the perk list. Some perks are active and can be activated during the game. The others are passive and have a permanent effect. As players level up and progress through the game, new ships will be unlocked. When a ship is unlocked, it can be bought with the gold coins acquired during missions or free plunder. Pause the game, access the Ship menu and browse through all the available ships. Once a ship is bought, use it by tapping the Equip button. A player's Bounty on their head increases each time an enemy is defeated, an achievement is awarded or mission completed. The bounty defines player rank and allows them to compare progression with friends.[25]
Players can fire a ship's broadside cannons by using their device touchscreen, aim and tap. When it is the enemy ship's turn to fire, players will be given the chance to dodge the attack or fire a disruptive shot to do damage and avoid. During this turn, the camera will pull up into a top-down view.[6]
After the second update, the ability to fish and hunt whales was added.[10] The game's mode of transportation remained naval-only until the second expansion, The Lost Temples with the introduction of on foot travel. The missions in the Mayan temples task players to escape a collapsing temple, the camera pans into first person mode as players have to swipe in any direction to avoid obstacles. The gameplay in this section is reminiscent of the 2011 mobile game Temple Run and its various iterations. Alonzo can run, swing, slide and wall run to escape the temple, after he makes his escape he performs a Leap of Faith.[26]
Gallery
Credits
By type
Crew
Ubisoft Mobile Paris
Studio Director: François Bodson
Creative Director: Cyril Derouineau
Producer: Sylvain Loe-Mie
Technical Director: Justin Leschiera
Associate Producer: Marc Lejeune, Anton Monjon
Gameplay Programmers: Jonathan Chaboissier, Pierrick Goujet, Jérémie Nikaes, Antoine Lansade, Dimitri Pean, Sylvain Hénot
2D/3D Artists: Jean-Christophe Hoareau, Charles Leclercq, Aurélien Marck, Marylène Pourcelot, Stevans Robert
Animator: Gérard Luu
Game Designer: Camille Lescaudron, Anthony Deutsch
Level Designer: Adrien Lebreton
Mission Designer: Julien Guérif
QA Tester: Damien Charraud, Yann Leparquois
Usability Expert: Nan Zheng
Pre-conception Workshop Lead: Flavio Rodriguez
Ubisoft Mobile Craiova
Producer: Razvan Tanasie
Associate Producer: Marian Vaduva
Lead Gameplay Programmer: Mihai Popescu
Gameplay Programmers: Andrei Alexandru, Alexandru Claudiu Dorobat, Alexandru Robert Dumbrava, Stefan Cristian Golopenta, Ionut Tufis, Richard Valentino Tinca, Bogdan Florian Veliscu
Render Programmers: Mazen Daieh, Alin-Catalin Dumitrica, Ionut Iulian Vaduva
Associate Lead Artist: Florin Danut Stoinea
Associate Art Director: Claudiu Nicolae Alniti
2D/3D Artists: Anca Maria Budu, Paul-Ionut Mitroi, Alin Popescu, Diana Florentina Scarlatescu
Concept Artist: Alberto Florin Butarin
UI Artist: Ciprian Aristotel Popescu
Animator: Costin Miulescu
Sound Design: Serban Ilicevici, Alexandru Marian Seidiu
Game Designer: Mihnea Ilicevici
Level Designer: Silviu Iordache, Horatiu Prica, Paul Scondac
External links
References
↑ Assassin's Creed Pirates - Android Apps on Google Play. Google Play. Archived from the original on May 2, 2017. Retrieved on May 17, 2021.
↑ Goldfarb, Andrew (10-09-2013). Assassin's Creed Liberation HD, Pirates Announced. IGN. Archived from the original on October 24, 2013. Retrieved on September 18, 2019.
↑ Lien, Tracey (10-09-2013). Assassin's Creed gets a stand-alone naval battle game. Polygon. Archived from the original on February 18, 2020. Retrieved on September 18, 2019.
↑ Lewis, Anne (10-09-2013). ASSASSIN'S CREED PIRATES ANNOUNCED. UbiBlog. Archived from the original on April 22, 2016. Retrieved on September 18, 2019.
↑ Goldfarb, Andrew (25-11-2013). Assassin's Creed Pirates Release Date, Price Announced. IGN. Archived from the original on February 8, 2021. Retrieved on September 18, 2019.
↑ 6.0 6.1 Lewis, Anne (25-11-2013). Assassin's Creed Pirates - Release Date and Price. UbiBlog. Archived from the original on April 22, 2016. Retrieved on September 18, 2019.
↑ 7.0 7.1 Lewis, Anne (05-12-2013). Assassin's Creed Pirates is Out Now!. UbiBlog. Archived from the original on April 22, 2016. Retrieved on September 18, 2019.
↑ O'Brien, Lucy (09-01-2014). Assassin's Creed Pirates Gets an Update. IGN. Archived from the original on February 18, 2020. Retrieved on September 18, 2019.
↑ Lewis, Anne (09-01-2014). ASSASSIN'S CREED PIRATES – MAJOR UPDATE. UbiBlog. Archived from the original on April 22, 2016. Retrieved on September 18, 2019.
↑ 10.0 10.1 Lewis, Anne (07-03-2014). ASSASSIN'S CREED PIRATES – SECOND MAJOR UPDATE. UbiBlog. Archived from the original on April 22, 2016. Retrieved on September 18, 2019.
↑ Nunneley, Stephany (16-05-2014). Set sail for La Boca del Diablo in Assassin's Creed Pirates update. VG247. Archived from the original on February 26, 2021. Retrieved on September 18, 2019.
↑ Lewis, Anne (16-05-2014). ASSASSIN'S CREED PIRATES – NEW UPDATE. UbiBlog. Archived from the original on April 22, 2016. Retrieved on September 18, 2019.
↑ Farokhmanesh, Megan (19-05-2014). Assassin's Creed Pirates now available in web browsers. Polygon. Archived from the original on November 11, 2020. Retrieved on September 19, 2019.
↑ Mahardy, Mike (10-07-2014). Assassin's Creed Pirates is the Free App of the Week. IGN. Archived from the original on November 11, 2020. Retrieved on September 18, 2019.
↑ UbiBlog: ASSASSIN'S CREED PIRATES IS THE FREE APP OF THE WEEK (archive in 2016-05-06)
↑ Nunneley, Stephany (04-09-2014). Mobile game Assassin's Creed Pirates is now free-to-play. VG247. Archived from the original on February 27, 2021. Retrieved on September 18, 2019.
↑ Lewis, Anne (04-09-2014). Assassin's Creed Pirates Goes Free-to-Play. Ubiblog. Archived from the original on May 4, 2019. Retrieved on September 18, 2019.
↑ Assassin's Creed Pirates on the App Store. iTunes. Archived from the original on October 5, 2015. Retrieved on September 5, 2014.
↑ Lewis, Anne (22-04-2014). Assassin's Creed Pirates - Onshore Exploration Update. UbiBlog. Archived from the original on January 30, 2016. Retrieved on September 18, 2019.
↑ Whritenour, Jacob (11-06-2015). Assassin's Creed Pirates Receives Final Update. Hardcore Gamer. Archived from the original on February 18, 2020. Retrieved on September 18, 2019.
↑ Assassin's Creed Pirates on the App Store. iTunes. Archived from the original on December 23, 2015. Retrieved on June 26, 2020.
↑ Assassin's Creed Pirates. Google Play. Archived from the original on February 9, 2016. Retrieved on June 26, 2020.
↑ Assassin's Creed Pirates Android Walkthrough - Gameplay Part 1 - Chapter 1: A Legend is Born on the gocalibergaming YouTube channel