You cannot know anything. Only suspect.


This article contains content from pre-release sources that may or may not be reflective of canon upon release. This article therefore likely contains spoilers.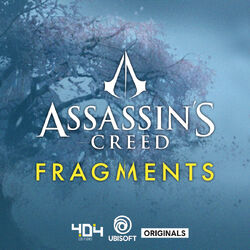 Assassin's Creed: Fragments is a series of young adult novels written by three different authors.[1] The first installment titled The Blade of Aizu, by Olivier Gay, was first released in France on 15 April 2021.[2] The second book, The Highlands Children by Alain T. Puysségur is scheduled for 16 September 2021 and the final book, Les Sorcières des Landes by Adrien Tomas, for early 2022.[1]
The series reportedly consists of three standalone novels focusing on two young heroes, siblings and Assassins in the making, during key moments of history,[3] namely, 19th century Japan during the Boshin War, 13th century Scotland during the English invasion by King Edward I, and 17th century France during the witch trials.[4]
Novels
Gallery
References
↑ 1.0 1.1 Access the Animus (@AccessTheAnimus) on Twitter "Judging by the recent #AssassinsCreed Fragments trailer, the three books will be
1) "The Blade from Aizu" by Olivier Gay, April 15th, 2021
2) "The Children from the Highlands" by Alain T. Puysségur, September 2021
3) "The Witches from the Forests" by Adrien Tomas, Early 2022." (screenshot)
↑  Assassin's Creed - Fragments - La Lame d'Aizu - Roman young adult officiel - Ubisoft - Dès 14 ans (01) on Amazon.fr (backup link)
↑ 404 Éditions (@404editions) on Facebook: Assassin's Creed Fragments announcement. "Il s'agit de 3 romans indépendants où l'on suivra deux jeunes héros, frères et sœurs et Assassins en devenir, qui voient leur vie basculer à des moments-clés de l'Histoire" (backup link)
Assassin's Creed: Fragments

Characters
Factions
Locations
Events
Weapons
Community content is available under
CC-BY-SA
unless otherwise noted.