Raise a Floppa - The Loop
Play Sound

Assassin's Creed: Brotherhood of Venice is a board game that was released on 20 May 2021 in Asia. It also came out on 15 June 2021 in the United States and the European Union.
Description
Discover and play a 20+ hours immersive campaign based on untold stories of the Venetian Brotherhood.
This narrative campaign is taking place during the Renaissance between Assassin's Creed: Brotherhood and Assassin's Creed: Revelations.[2]
Roma
Discover 4 new assassins! You can play them in the main campaign from the core box. The assassins will explore the city of Rome in search of a hidden artifact. The enemies will also be unique to this expansion and will include Papal Guards and Followers of Romulus.[3]
Creed vs Crows
The Competitive Versus Game Mode is played with 2 to 4 players. Two teams are opposed in a Borgia Fortress in 8 standalone Memories: two Assassins on one side and two Crows on the other. The teams start from opposite sides of the game board and must complete objectives before the other team. Both teams can call on their Mentor (Ezio Auditore or Cesare Borgia) to come help them.
Objectives are variable and range from destroying the other team's Tower to capturing an Objective in the other side's territory, eliminating all the opponents' teammates and more. The Assassins and Crows are intruders in the Fortress so Guards will act as usual against both teams.
This mode allows players to jump in and jump out of the game without any influence on the campaign. All Memories are independent and can be played in 30 to 90 minutes. All Memories are highly replayable depending on each player's strategy.[4]
Tokyo XXI
The modern-day expansion is an optional setting that will tie in the main storyline, it features 4 modern day Assassins in a completely different environment! The expansion is set in Tokyo, modern day, and has been confirmed to be canon. It will feature a unique storyline involving well known characters, led by Layla Hassan, Rebecca Crane, Kiyoshi Takakura and a yet unidentified Assassin.[5]
Development
Assassin's Creed: Brotherhood of Venice began development in 2017 with Ubisoft's approval. All art and miniatures needed to be validated by Ubisoft before being fully implemented.[6] A Kickstarter for the game was launched on 13 November 2018,[7] and was successfully funded in less than 24 hours.[8] The first stretch goal, 10 Horsemen Guards miniatures and their card, was met shortly after the announcement. Just in the first day, Leonardo da Vinci, Courtesan headquarters (and their event cards, and minifigures), Leondardo's tank, two mystery events and an Animus glitch were all reached.[9] After congratulating backers on reaching 10 stretch goals,[10] Triton Noir announced the first planned expansion pack, Roma on 16 November.[3] After their next stretch goals were made too far apart, Triton Noir issued an apology to backers and awarded them the thief cards and minifigures,[11] and revealed the next stretch goals - Venetian tiles and the Sword of Altaïr which themselves were later unlocked.[12][13] On 20 November, Triton Noir updated their Assassin Pledge to include an extra 26 minifigures and a 24cm tower figure.[14] That same day the stretch goal for four treasure chests was unlocked.[15] Stretch goals for Blunt weapons and Fast travel stations were the next to be unlocked.[16][17] The contents of the Roma expansion pack were revealed on 23 November.[18] A new memory to retrieve Kassandra's Spear of Leonidas and Eagle Kopis was the next stretch goal to be unlocked.[19] Triton Noir later unveiled a series of social stretch goals which included; 100 retweets on Twitter awarding the Auditore cape, 100 shares on Facebook awarding Leonardo's Flying Machine, 5,300 Kickstarter backers awarding 1 Venetian location, and 200 BoardGameGeeks fans awarding a Splinter bomb.[20] All these social stretch goals were later met.[21] An addition for the Spear of Leonidas memory was added that gave players a secret boss, next was 6 tiles for a Lost Temple, and finally two weapon cards for Kassandra's weapons.[22] A set of Helmschmied Drachen Armor was added next.[23] The next stretch goal unlocked was a memory about Salaì. It was fully funded On 30 November.[24] That same day, the second expansion pack Creed vs Crows was announced.[4] The last stretch goal of November unlocked was disguise cards.[25] November marked the end of preproduction.[26]
On 2 December, rooftop garden minis were unlocked and the next memory was announced.[27] The memory, featuring a plague doctor known as the Vulture was fully funded on 4 December.[28] The third and final expansion pack was announced as Tokyo XXI, and with it a mystery member of the Assassins.[5] The next stretch goal unlocked was the Animus memory. With this memory fully funded on 5 December, the crowdfunding reached $1,000,000.[29] On the same day, the Machiavelli memory was announced and then fully funded.[30] Digital audios for introductions and conclusions of memories were the next stretch goals unlocked. The next goal was announced, as the Amun Memory.[31] On 6 December, the Amun memory was fully funded and the Carnival memory was announced.[32] Next to be unlocked were objective bases to replace tokens.[33] On 7 December, the Carnival memory was fully funded,[34] and a legendary difficulty was added.[35] One last memory involving Ezio Auditore da Firenze was announced and then fully funded on the same day. The crowdfunding campaign ended with a total of CA$ 1,391,215 being raised from a total of 6,762 backers.[36]
In February 2019, Triton Noir started looking for a new visual artist to design new versions of tiles. Final weight estimates were calculated and international shipping costs were being quoted.[37] In March, after receiving player feedback, the tile designs were changed. The new tiles were made using a mix of 2D and 3D with assets by Ubisoft used with permission.[26] In April, Dariâ's minifigure was updated. Instead of a blowpipe, the new Dariâ bore a wrist crossbow. The core systems of the game were also finished by April.[38] By May, the base game's memories were nearing completion and Triton Noir began working more closely with Ubisoft on the narrative. The team were also addressed issues on tariffs from board games made in China may affect importation to the US.[39] In June, miniatures were close to completion and painting had begun. Illustators Pascal Quidault and Paul Vérité worked to create the new tile and cards artwork.[40] In July, work on Roma's tile artwork began and the 3D printed towers were being produced.[41] In August, Triton Noir collaborated their effort with Ubisoft for the Tokyo XXI expansion. They made sure that the narrative of Tokyo XXI fitted in with the canon of the series and that it can reused in future media.[42] In September, Triton Noir announced that in addition to English, French, and German, the game would also be published in Spanish and Italian.[43]In October, ame tiles for Roma, Creed vs Crow, and Tokyo XXI were also teased along with further artwork. The Pledge Manager for the game closed on 7 November.[44] In November, the green dice were removed entirely after playtests and the red detection and white attack die were modified.[45] A draft version of the rule book was created in December, after proofreading it was printed. Translations into languages other than English and French had also started with help from professional translators.[46]
In January 2020, after ongoing communication with the manufacturer's engineers some minor changes were made to the miniatures to ensure that they would cast properly. Some had to be into multi-part miniatures to keep their poses. Creed vs Crow received a content update that removed some cards with their tokens and added others.[46] In February, due to the coronavirus pandemic, deliveries were delayed for at least 4 months. Box organization was designed, with each figures place in the plastic mold being worked out. The illustrations and miniatures were also all completed. The rule book had still not been fully approved by Ubisoft at that time.[47] In March, the rule book had been approved and proofread. Translation on the campaign book then started.[48] In April, all miniatures were validated and ready for casting with red wax models. The team then received White Boxes to check final component quality, dimensions and number of elements, and to organize how best to fit everything in the boxes. The Roma was noted as being too big and its dimensions have since been rectified. The cards were then sent to be translated.[49] By September, playtests were finished and manufacturing was halfway completed.[50]
Gameplay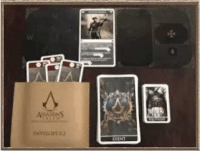 The campaign is expected to take 20+ hours. It can be played by 1-4 players against an enemy faction. The characters operate out of an HQ.[7] Each memory is described in the campaign book and each has their own envelope, effectively keeping the other memories a secret until they are played. Envelopes also contain new sets of Events, Equipment, and Special cards (such as Synchronization card) that are all then added to the existing deck. Some Event cards are memory specific and will be timed then once played are discarded. The game is designed to have unlimited replayability as the game tiles can placed anywhere for any mission.[51] During the tutorial memories, players will take the role of an Assassin apprentice.[52]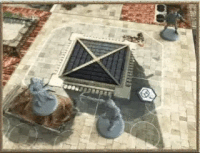 Each turn has 4 phases; the Event Phase: in which players draw an event card and apply its effect; the Assassins Phase: in which each Assassin takes actions with their in the order they want; the Guards Phase: in this phase Guards move, fight if applicable and reinforcements come in. Note: This Phase is ignored during the first Memory played, it will be discovered later; lastly is the End Phase: in which players Check if a new Game Turn should be started.[53]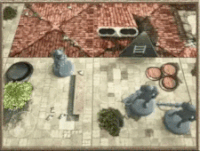 Players can climb towers to Synchronize and reveal secret items in the level. Stealth is also an element of the game, players can risk moving onto a square shared by a guard but will need to pass a stealth check with the detection die. If a player is detected they can flee to the rooftops where guards cannot follow, players then need to wait until they are anonymous again.[53]
In each memory, players have a specific objective they need to complete before moving on. Trophies tokens are vital for players to achieve 100% synchronization, trophie tokens are then added to a player's trophy bar once achieved. Players can compare their trophy bars with other players at the end of the campaign.[53] Amongst the variety of enemy types there are the Crossbowmen and Agile guards. Crossbowmen can shoot a distance of one tile, cannot move from a ground tile to a roof without a ladder and use one Attack die only. The Agile guards are slightly harder to kill as they can move freely from Ground tiles to Roof tiles just like the Assassins and attack in melee with two Black Attack Die. Each memory will have a boss type enemy with unique special abilities.[54]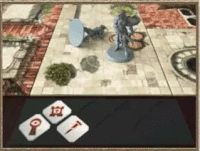 Each Assassin has equipment they can use, these are applied by playing Equipment cards. Equipment cards will show the equipments; type, value (in florins), Number of the envelopment the card was from, Action Cube cost to use, and also the symbol designating where on the board it goes. A weapon's effect can be applied by rolling the white die and landing on the Assassin insignia. Players can level up their Assassin, flipping over their card allows a player to upgrade their personal ability. There are three aptitudes to choose from for each memory.[53]
The game is projected to take 25+ hours to complete all memories. Most memories will take 30-90 minutes each, with more challenging ones taking 120+ minutes to complete. There are at least 18 memories in the base game.[51]
Release
In November 2018, the originally predicted release date for Assassin's Creed: Brotherhood of Venice was in June 2020.[55] In March 2020, Triton Noir issued a statement regarding a delay in deliveries due to the coronavirus. November was the new estimated release date.[48] However in April, Triton Noir revealed in a road map that playtests would be taking place in June and the manufacturing and shipping dates were still to be determined.[49]
Marketing
On 2 November 2018, Triton Noir uploaded a concept video their YouTube channel before crowdfunding began as a way to show potential backers what the game was going to be about. At this stage, a basic prototype of the game had already been created.[56] On 14 November, the day the game's Kickstarter was created and successfully funded, Triton Noir uploaded a prototype gameplay video as part of the Kickstarter campaign.[57] A French-language only gameplay livestream premiered on 21 November.[58] On 28 September 2019, a video detailing the minifigure painting process was released.[59]
At the 2019 Montreal ComicCon, Brotherhood of Venice was playtested by members of the fan site Access the Animus.[60]
Editions
Triton Noir currently has advertised two editions for pre-order.
A retail copy of Assassin's Creed: Brotherhood of Venice
Two sets of Assassin & Apprentice Cards
Over 35 Reward cards
More than 34 Event cards
More than 88 Equipment cards
70+ Secret cards
24 unique Reinforcement cards
4 multilayered cardboard Assassin / Apprentice Boards
A two-sided Templar Board
26 Dice
56 plastic cubes
Over 20 Memory Envelopes to be opened during the campaign
4 Objective bases
Over 50 Tiles used to build the game maps
18 colored clip-on bases
The Mercenaries Headquarters board & its unique Event deck
The Courtesan Headquarters board & its unique Event deck
The full color Rules booklet
The full color Campaign book
The organizer system
143 miniatures (including secret miniatures in opaque boxes)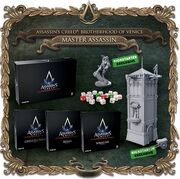 A retail copy of Assassin's Creed: Brotherhood of Venice
Everything included in the Core Box
Roma expansion pack
Creed vs Crows expansion pack
Tokyo XXI expansion pack
Deluxe Assassins Dice Set
Crow's Nest Tower (Kickstarter exclusive)
Ezio the Assassin Bonus Miniature (Kickstarter exclusive)
Gallery
References
External links