Assassins Creed: Ascendance is a short, animated film project created to expand the Assassin's Creed series. It was revealed by Ubiworkshop on 10 November 2010, and was released on 16 November 2010 for PlayStation Store, Xbox LIVE, and iTunes.[1]
Created as a bridge between Assassin's Creed II and Assassin's Creed: Brotherhood, the short film details more of Cesare Borgia's rise to power.
Plot
After the destruction of Monteriggioni in the year 1500, the Assassin Ezio Auditore da Firenze met with Leonardo da Vinci in the streets of Rome to obtain information about the Pope's son, Cesare Borgia. Forewarned about the man he wished to know, Ezio wanted to learn more nevertheless. What followed was a reliving of Cesare's ascension to power.
During the year 1497, Rodrigo's son, Juan Borgia the Younger, was named Captain General of the Papal armies, while Cesare was named one of the cardinals. Not content with the position given to him, Cesare planned to eliminate his brother. With the assistance of the courtesan Fiora Cavazza, Cesare had his brother killed in bed, and his body subsequently thrown in the Tiber river. Left with no other substitute, Rodrigo named Cesare the new Captain General.
Cesare would then begin a conquest for Romagna in late 1499 with Ramiro d'Orco, Oliverotto da Fermo, and Vitellozzo Vitelli leading his armies. However, in the midst of their conquest, several of his subjects began to rebel against him. In response, Cesare had Ramiro beheaded and framed his other generals, feeling that he no longer had use for them. Fearing that they could be next, the remaining generals, Oliverotto and Vitellozzo, conspired against Cesare, and began a rebellion in the year 1502. The two generals won several battles and even managed to take over several of Cesare's lands.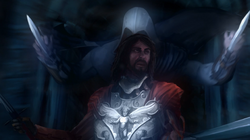 Hearing the demands of Oliverotto and Vitellozzo, Cesare promised to accept them all, assuring that they would return to his service and their past atrocities be forgiven. After a few months, Cesare held a dinner in their honor, though it was later revealed by Cesare to be an ambush, and he had the two generals captured. Cesare then ordered Micheletto Corella to strangle them to death. Reclaiming the lands taken from him, Cesare earned the praise and respect of both his allies and his enemies.
By then, Cesare had surrounded himself with several figures of power and talented people, such as Leonardo da Vinci, and several other individuals. Hearing enough, Ezio vowed to kill Cesare, despite his reputation. After receiving a scroll from Ezio, Leonardo returned to the side of Cesare in order to resume work on his War Machines. As Leonardo entered the Castel Sant'Angelo, Ezio returned to the city, declaring that Rome's corruption would end.
Media
The art style of the entire animation was made to be a balance between what the animators were comfortable with and the traditional oil-paint style iconic to the Renaissance era.[2]
Additionally, the creators wished for the film to be familiar to the fans of the series. To achieve this, they used sound effects and backgrounds taken directly from Assassin's Creed: Brotherhood, such as the Papal apartments in the Castel Sant'Angelo, and the headquarters on Tiber Island.[2]
Trivia
The film was originally named "Secret Project Number Three" by UbiWorkshop.[3]
A variation of Octavian de Valois' death is shown in the introduction of the short film. There, Octavian and several of his men held Pantasilea Baglioni hostage in the Roman Forum, and were attacked by Ezio, who was wearing his usual Assassin robes. Ezio would then strike from above and stab Octavian with his Hidden Blade.

Octavian's final words also differed from the ones spoken in Assassin's Creed: Brotherhood, saying that he only played a small part in Cesare's plans, rather than him admitting his desire for respect.

Juan Borgia's murder appears to have taken place in the Tiber Island headquarters. Whether this is considered canon or not is yet to be confirmed.
The building where Oliverotto and Vitellozzo's dinner supposedly took place appears to be the Borgia Tower nearest to the Caserma di Alviano that kept Bartolomeo d'Alviano's forces at bay, until Ezio destroyed the building. However, this causes conflict in the timeline, as Ezio destroyed and had the Assassin Order occupy the tower in 1500, while the murders of both generals took place in 1502.
The film shows one of the few instances where Cesare was seen using a crossbow, utilizing it to subdue Oliverotto. The crossbow Cesare possessed in the film had a unique design, embedded with a small metal decal of a woman.
The film is included with the Assassin's Creed: Lineage Blu-ray disc.
Gallery
References
Community content is available under
CC-BY-SA
unless otherwise noted.