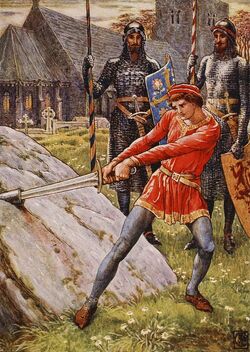 King Arthur Pendragon (fl. 5th–6th centuries CE) was a Briton leader who led the defence of his people against the Saxon invaders in the early 6th century. He was also a member of the organization that would evolve into and come to be known as the Templar Order.
According to legends, Arthur possessed a sacred sword called Excalibur or Caliburn, one of the Swords of Eden, which he pulled from a stone.[1] However, he was later betrayed by those he loved, which ultimately led to his death.[2]
Legacy and influence
Alan Rikkin was of the opinion that Arthur's view of the Templars' role was idealistic and misguided, seeing his failure as proof that the Order was meant to follow a different path in the 21st century.[2]
In 2012, Clay Kaczmarek included Walter Crane's illustration of Arthur pulling out the sword in the stone in a set of puzzles he'd hidden within the Animus for his follower to find. In Clay's puzzle, it was suggested that the sword of Arthur was in fact a Sword of Eden.[1]
Appearances
References
Community content is available under
CC-BY-SA
unless otherwise noted.