"So this is where Jason left the Argo."
―Kassandra upon visiting the wreckage, 420s BCE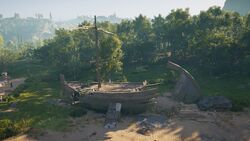 The Argo Wreckage was the location where the decaying remains of the hero Jason's legendary ship Argo laid in Isthmus of Poseidon in Korinthia, Greece.
Dedicated to the god Poseidon, the ship's remains were located outside the god's temple in the Sanctuary of Isthmia by the time of the Peloponnesian War when the Spartan misthios Kassandra visited them.[1]
Appearances
References
Community content is available under
CC-BY-SA
unless otherwise noted.