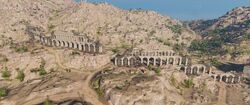 The Aquaeductus Kyrenaike was an aqueduct located in Cyrenaica.
History
When Kyrenaika became a Roman province in the 1st century BCE, they commissioned the construction of the aqueduct in mountains region, overseered by the Roman engineer Vitruvius.
By time of Bayek's visit in 47 BCE, it was still under construction. A number of bandits who resided in the mountains nearby attempted to sabotage the construction, leading Vitruvius to send Bayek and eliminate the bandits.
Gallery
Appearances
References
Community content is available under
CC-BY-SA
unless otherwise noted.