This article is about the temple of Apollo in Cyrene. For other uses, see Temple of Apollo.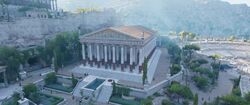 The Apollonion of Cyrene was a temple dedicated to the Greek god Apollo in the city of Cyrene.
History
In 47 BCE, the Medjay Bayek of Siwa performed a leap from the rooftop of the temple, impressing the children of the city including Esiocles.[1] Around the same time, Bayek also found one of the Papyrus Puzzles within the temple.[2]
Sometime later, Bayek travelled to the temple after learning of the magistrate Leander's plan to have Diocles and the opposing magistrates eliminate. Arriving just in time, Bayek and Diocles were able to fend off and eliminate Leander and his men.[3]
Gallery
Appearances
References
Community content is available under
CC-BY-SA
unless otherwise noted.