The Appennine Mountains is a mountain range stretching from the north to the south of Italy along its east coast. It is one of the areas in Assassin's Creed II, linking Florence to Romagna/Forlì. This stretch of land is the only place you can use the coachwagon as you speed through it with Leonardo da Vinci. It contains a farming area with a church and 16 money chests along the road, however it contain neither Feathers nor Glyphs. It is the only location in the entire game to feature an original Assassin's Creed soundtrack, Dunes of Death. There are only civilians on either end of the Mountains, with none in between. Aside from Monteriggioni, the Appennine Mountains is the only location to be entirely void of guards, and additionally, is the only place without shops.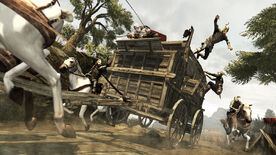 Community content is available under
CC-BY-SA
unless otherwise noted.