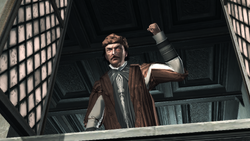 Antonio Vespucci was a Florentine nobleman during the 15th century.
Much to his fury, Antonio's daughter, Cristina, frequently received nighttime visits from her lover, Ezio Auditore. Although he would call his guards on Ezio, they were never able to outmatch his speed and dexterity.[1] Due to Antonio's adoration for his daughter, Cristina would often use her influence on him to ensure that Ezio would not suffer for his involvement with her.[2]
In December 1476, Ezio was forced to leave Florence and Cristina, and Antonio began asking his daughter to choose what life she wanted. She would eventually marry Manfredo Soderini.[2]
References