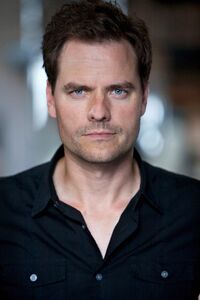 Roger Anthony Lemke is a Canadian actor and screenwriter living in Toronto. He provided the voice and motion capture for Pierre Bellec in Assassin's Creed: Unity.
Biography
He began his acting career after graduating from the University of Waterloo in Waterloo, Ontario, with a degree in Theatre Arts. Lemke started in theatre, but participating in a York University short film roused his interest in acting in television and film.[1]
Since then, Lemke has appeared in a multitude of productions, possessing a long list of television credits. He has appeared in The Listener, 19-2, Lost Girl and Dark Matter. Film productions in which he has featured include White House Down, The Storm Within and Down the Road again. Lemke also wrote and co-produced One Last Dance with Geoffrey Uloth.[2]
After marrying, Lemke decided to study law at the prestigious McGill University Faculty of Law in Montreal, Quebec, as it was something he had always wanted to do. Having moved to Montreal for his studies, he graduated in 2007 with degrees in Common Law and Civil Law.[3] After a brief stint at a Canadian law firms, Lemke returned to acting full-time.[1]
Assassin's Creed works
Assassin's Creed: Unity (2014) - Pierre Bellec
Trivia
Lemke spent a year teaching English in Prague after graduating from theatre school.
Lemke is a former member of the Fort Henry Guard Drill Squad, where he rose to the rank of Sergeant.
References
External links
Community content is available under
CC-BY-SA
unless otherwise noted.