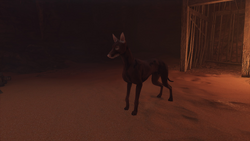 Anta was a dog of the Pharaoh Hound breed that served as a friend and a protector of the siblings Apheru, Ngozi, and Neema, from Memphis in the 1st century BCE.
Biography
In 48 BCE, bandits residing within the Adorer of Thoth Tomb in Giza captured Anta and threatened her life unless the children did the bandits' bidding. The children had no choice but to obey, and thus took up thievery. Finally they targeted the Medjay Bayek of Siwa and he ended up helping them to save Anta.[1]
Afterwards, Anta joined the children in returning to Memphis, along with their former victim, the Greek geographer Corteseos.[1]
Gallery
Appearances
References
Community content is available under
CC-BY-SA
unless otherwise noted.