He who increaseth knowledge, increaseth sorrow.


This article contains spoilers, meaning it has information and facts concerning recent or upcoming releases from the Assassin's Creed series. If you do not want to know about these events, it is recommended to read on with caution, or not at all.

This template should be removed from the article three months after release.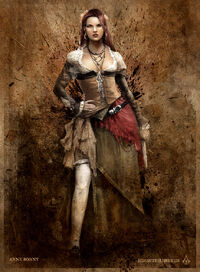 Anne Bonny (8 March 1702 – 22 April 1782) was an Irish pirate born in Kingsale, Ireland during the early 18th century who operated out of the Caribbean. At some point, she had a relationship with the Assassin Edward Kenway.
History
In October of 1720, Jack Rackham and his crew (including Bonny) was attacked by a "King's Ship", a sloop that was commissioned by the Governor of Jamaica, with the intent to take out Rackham. Being that most of the crew were drunk, many of the pirates provided little resistance, yet Bonny, Mary Read, and an unknown man fought to their full potential.
Eventually, the crew was imprisoned and sentenced to be hanged. However, both Bonny and Read were able to plead pregnancy, and their sentences were temporarily put on hold until childbirth had ensued.
There is no historical record of Bonny's release or of her supposed execution. This led to the belief that her father ransomed her; that she might have returned to her husband, or even that she resumed a life of piracy under an entirely new identity.
Reference
Community content is available under
CC-BY-SA
unless otherwise noted.