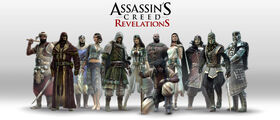 As Abstergo Industries' Animus recruits progressed through the Animi Training Program, select individuals were chosen to progress to the second stage, as they had an increased adoption rate for the skills which the scheme aimed to instill into their subjects via the Bleeding effect. Following this, they would be supported into becoming Master Templars by Abstergo, via documents and videos provided for them.
Like the first stage operated, influential Templars from the Ottoman Renaissance were selected for use as Animi Avatars. For some Avatars, their historical counterparts were found and assassinated by the Assassin Ezio Auditore, as he trained his apprentices in Constantinople into becoming Master Assassins, along with those he had killed following his journey to discover about Altaïr Ibn-La'Ahad's hidden library.
Animi Avatars
Gallery
References
Community content is available under
CC-BY-SA
unless otherwise noted.