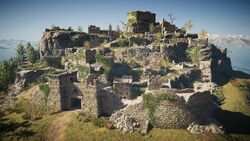 The Anavatos Ruin was an old, abandoned fort located on a hill within the Hunted Forest of Artemis region of Chios, Greece.
History
The origins of the ruins were shrouded in mystery, as well as the cause of its dilapidation. By the time of the Peloponnesian War, Iokaste, a Sage of the Worshippers of the Bloodline branch of the Cult of Kosmos, had withdrawn into the ruins with a contingency of Cult Guards.[1]
Planning to perform a ritual, Iokaste invited Melite, one of her subjects, to join her on the island and in the ruins to help her.[2] Instead of Melite, however, the Spartan misthios Kassandra reached the ruins and met Iokaste, who fell to her blade as part of Kassandra's attempt to demolish the Cult.[1]
Behind the scenes
Historically, Anavatos was a tower-village built during the Byzantine period. Therefore, the ruins' appearance in Assassin's Creed: Odyssey is anachronistic.
Gallery
Appearances
References