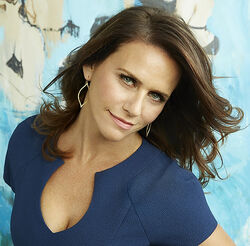 Amy Landecker (born September 30, 1969) is an American film, stage and television actress who provided the voice for Laetitia England.
Biography
Landecker was born in Chicago, Illinois. She is the daughter of Chicago radio personality John Records Landecker, and the great-granddaughter, on her mother's side, of lawyer Joseph N. Welch.[1]
Although she did some acting in grade school, being part of the theater department, Landecker initially did not think about going into acting, feeling like she was not "particularly attractive or marketable". This led her to study communications at the University of Wisconsin, but she ended up going back to acting after she fell in love with a Technical Assistant at the theater department.[2]
After college, Landecker traveled back to Chicago; her early career consisted of voiceover and stage work, the latter of which eventually took her to New York. There, she worked on a play titled Bug, by fellow Chicagoan Tracy Letts, which led her to move to Los Angeles.[2] Since then Landecker has appeared in numerous films and television shows, including a supporting role as Mrs. Samsky in the Academy Award "Best Picture" nominated film A Serious Man, directed by the Coen brothers.[1]
Landecker is currently appearing in the crtically-acclaimed comedy-drama internet television series Transparent as Sarah Pfefferman. She was also a cast member of The Paul Reiser Show on NBC, playing Paul Reiser's wife, Claire. Television shows she has guest-starred on include Law & Order: Criminal Intent, NCIS, Curb Your Enthusiasm and Revenge.[1]
Assassin's Creed works
References
External links
Community content is available under
CC-BY-SA
unless otherwise noted.