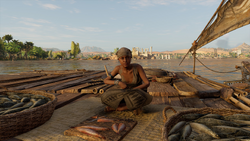 Amosis was an Egyptian fish merchant who worked in Sais during the reign of Ptolemy XIII.
Biography
Amosis lived in Sais during the 1st century BCE, working as a fish merchant by the docks west of the town by Lake Mareotis. She was also a friend of Jeska, a smuggler who worked alongside the town's brewer, Harkhuf, to help citizens to escape the town due to the governor, Sefetu, and his heavy rule.[1]
For her actions, Jeska was apprehended by Sefetu's men, who brought her to Fort Nikiou where she was tortured. Though believed to be dead, Jeska was able to escape the fort, with only Amosis knowing of her status. Harkhuf, however, was not able to confirm her status and thus sent the Medjay Bayek of Siwa to recruit Amosis instead. When Bayek visited her, she directed the Medjay to Jeska.[2]
Gallery
Appearances
References
Community content is available under
CC-BY-SA
unless otherwise noted.