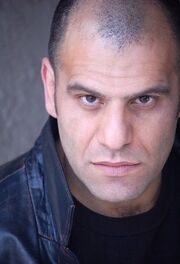 Ammar Daraiseh (born November 10, 1969 in Ramtha, Jordan) is an actor. He has appeared in TV shows such as FlashForward, Lost, Las Vegas, Commander in Chief, The Shield, and JAG and has appeared in films such as Joined at the Head and U.S. Marshals.
In the Assassin's Creed series, Daraiseh provides the voice and model[1] of Tamir in Assassin's Creed.
Assassin's Creed works
Assassin's Creed (2007) – Tamir
External link
Reference
Community content is available under
CC-BY-SA
unless otherwise noted.