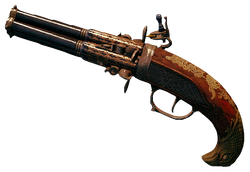 The American Flintlock was a four-barrel flintlock pistol manufactured by Americans which was sold in shops throughout Paris during the French Revolution.
Description
Because flintlock pistols by nature can only chamber one shot at a time, gunsmiths sought to rectify this by first incorporating an additional barrel to the conventional design. The American Flintlock, so-called because it was produced by Americans, took this concept further by integrating not just two, but four, barrels into one handheld firearm. As a result, a user could fire four shots before needing to reload. While not the deadliest pistol of its day, it was still effective enough to defy contemporary expectations of American firearms.[1]
History
During the French Revolution, American Flintlocks were sold in shops across Paris for 1,000 francs.[1]
Weapon statistics
Level
Damage
Parry
Speed
Range
Cost
Modifiers
* * *
3
0
3
8
1,000₣
Additional damage: +25%
Description
An American-made flintlock, this is a better weapon than its origin would lead one to believe.
Behind the Scenes
In spite of its name, the American Flintlock is actually based on a three-barrel turnover pistol made in Augsburg[2] allegedly in 1775,[3] more specifically the Denix produced four-barrel replica[4] which itself appears to be a hybrid consisting the grip of the 1775 Augsburg pistol and the four barrels of a 1750 made Augsburg pistol.[5] This would appear to contradict the lore in Assassin's Creed canon that the firearm is of American origin.
Appearances
References
Community content is available under
CC-BY-SA
unless otherwise noted.